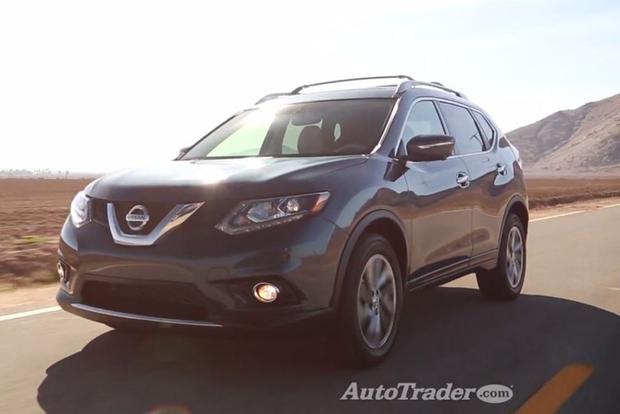 We've always appreciated the Nissan Rogue compact crossover, but the original 2-row version didn't quite hit the spot for growing families. That's why the 3-row 2015 Nissan Rogue is such a hot commodity. There's a strong family focus in this second-generation model, which is unusual in a relatively small SUV. But how cool is it to have a 7-passenger option that's not a pain to park? Here are five reasons why the Rogue might be your family's best bet.
Grown-Up Ride
Small crossovers are often aimed at young urban types, which can mean a stiff ride that's marketed as sporty, but the new Rogue is tuned for comfort. When the little ones are dozing in back, the Rogue's absorbent suspension makes sure there won't be any bump-related rude awakenings. There's also not much road or wind noise by segment standards, even when you're on the highway. At this price point, a smooth, quiet ride is a real selling point.
Premium Interior
The Rogue's interior amenities are similarly satisfying. The zero-gravity front seats were inspired by NASA research, and they're extremely supportive on long trips. The crisp displays and rich materials might pass muster in a luxury vehicle, let alone an affordable crossover. Looking around at the dashboard and trim, we're reminded of the Nissan Pathfinder, a larger and much more expensive vehicle. There's a lot to love about this affordable crossover's upscale vibe.
Available Third-Row Seat
The Toyota RAV4 offered a third-row seat for years, but the current model only has two, and Toyota's loss is Nissan's gain. Although the latest Rogue is essentially the same size as the old one, the engineers worked some magic and stuffed in an extra row of seats, raising the seating capacity to seven. That means two more seats for small children who would otherwise have to find someone else to ride with. Notably, you can also specify a 2-row Rogue with a nifty adjustable storage system for the rear cargo bay.
Fantastic Fuel Economy
Thanks in part to its continuously variable transmission (CVT), the Rogue returns a remarkable 28 miles per gallon overall, including 33 mpg on the highway. That's with the standard front-wheel-drive layout; adding all-wheel drive only knocks you down to 25 mpg in the city and 32 mpg hwy, so there's barely any penalty. That's exceptionally efficient for a 3-row all-wheel-drive crossover. Plus, the CVT doesn't have any gears to go through, so you'll never even feel it shift.
Modern Safety
All Rogues come with 4-wheel anti-lock disc brakes and stability control, but that's just the beginning. The Premium package features a 360-degree camera system that alerts you to road hazards from every possible angle. The Rogue is one of the only vehicles to offer this technology, regardless of price.
Autotrader Says
What's not to like? We're still trying to figure that out. The 2015 Nissan Rogue is tough to top if you're looking for a 3-row rig that's the right size and won't break the bank.