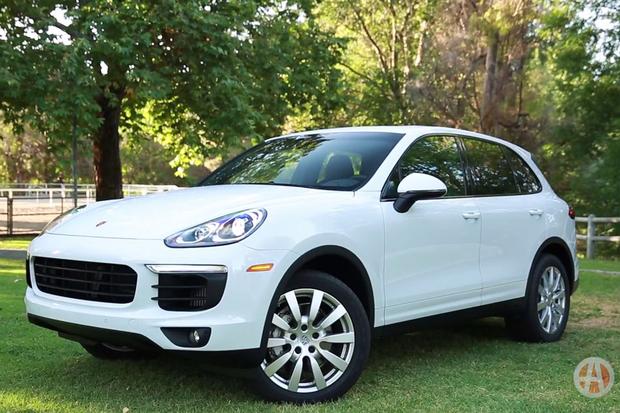 If you're looking for information on a newer Porsche Cayenne, we've published an updated review: 2019 Porsche Cayenne Review
We hear a lot of talk these days about high-performance SUVs, and most of the time, it's just that -- talk. The 2015 Porsche Cayenne is a very notable exception. This truck can really dance, and the current Cayenne has more sauce under its hood than ever. Even Porsche sports-car purists have to admit that the Cayenne is an incredible all-around vehicle. Here are five reasons to be a believer.
Comprehensive Engine Lineup
Under the hood, the Cayenne offers something for every driver. Want to save on fuel? The turbodiesel V6 returns an astounding 29 miles per gallon on the highway. Do you want to go 0 to 60 mph in 5.2 seconds? That's where the Cayenne S model's twin-turbo V6 comes in. For truly face-flattening acceleration, check out the Cayenne Turbo, which boasts an ultrarefined V8 that gets you to 60 mph in about 4 seconds flat. There's even a plug-in hybrid Cayenne with 20 miles of pure electric range.
Sports-Car Handling
You have to drive the Cayenne to appreciate just how capable it is around corners. Crossovers are tall and heavy compared to regular cars, but this Porsche feels like a hot little hatchback when you give it the spurs. The steering is quick and precise, and there's not much body roll. Plus, standard all-wheel drive keeps you planted all year round. If any crossover deserves to wear the Porsche crest, you're looking at it (and yes, that includes the Cayenne's lesser sibling, the Audi-derived Macan). See the 2015 Porsche Cayenne models for sale near you
Luxury-Car Composure
When a vehicle handles as well as the Cayenne, you usually have to live with a stiff ride. But Porsche doesn't make you choose. Don't get us wrong, the Cayenne feels firm, but it's never harsh -- no matter how rough the surface is. You can feel the sophisticated suspension keeping bumps at bay as you roll through the city. Luxury-car fans will feel right at home.
Amazing Versatility
Like every crossover, the Cayenne is a lot more versatile than a sedan. By the numbers, you get about 24 cu ft. behind the rear seats, and that expands to 63 cu ft. with the rear seatbacks folded flat. But that's not all; the Cayenne can also tow up to 7,716 pounds, which is as much as some pickup trucks. Crossovers typically struggle to tow even half that much, so the Cayenne really gives you extra capability here.
Features Galore
The Cayenne's button-rich dashboard suggests a lot of features, and that's exactly what you get. Standard perks include 10-speaker audio and a 7-inch touchscreen with navigation. Porsche also provides leather upholstery and a heated steering wheel, and we haven't even talked about Porsche's legendary options menu. Do you want body-color seatbelts? Or leather trim on practically every interior surface? Talk to your Porsche dealer; if you can dream it up, they can probably make it happen.
Autotrader Says
The 2015 Porsche Cayenne mixes luxury, versatility and performance like no other SUV on the planet. If you've got the dough, this Porsche is about as good as it gets. Find a Porsche Cayenne for sale