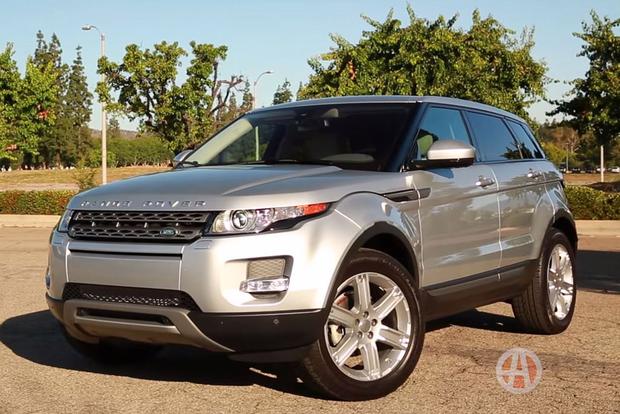 The 2015 Range Rover Evoque -- just Evoque for short -- comes from Land Rover, a company that created the superluxurious Range Rover. However, it's also a byword for extreme off-road talent. The Evoque is a compact luxury crossover with a unique style, and it's designed for the urban jungle rather than the actual jungle. Here are five reasons to check out the Evoque.
Fashion Accessory
Yes, everyone has their own ideas about good looks, but there are some things we can all agree on. The Evoque's taut, edgy lines are tailor-made for Fifth Avenue or Rodeo Drive. Although it's technically the entry-level Range Rover, the Evoque might be the best choice for urbanites looking to make their mark. Despite its small stature, the Evoque has a big personality.
Uptown Interior
The world of compact luxury crossovers gets bigger every day, but the Evoque's impeccable interior really stands out. The leather looks and smells rich, and the color combinations are cutting-edge. With its floating central console and high-quality materials all around, the Evoque's cabin is a pretty cool place to be.
Frugal Fuel Economy
With a turbocharged 240-horsepower engine up front, the Evoque has plenty of pep, but it's also surprisingly great on gas. Even though the Evoque comes standard with all-wheel drive, the Environmental Protection Agency rates it at an impressive 24 miles per gallon overall, including 30 mpg on the highway. That's partly due to a 9-speed automatic transmission that makes sure you're always in the right gear.
Just-Right Size
A lot of so-called compact crossovers are actually midsize these days -- and growing -- but the Evoque is genuinely compact. It's perfect for tight parking spaces, but at the same time, it still gives you the commanding high driving position of a proper SUV.
Fun to Drive
Thanks to those compact dimensions and a sporty suspension, the Evoque is a blast when you're behind the wheel. The steering is responsive and there's not much body roll, so you can slice through tight corners or rush-hour traffic with ease.
Autotrader Says
The 2015 Range Rover Evoque is nothing like traditional Land Rovers, but that's not a bad thing. If you want luxury and exclusivity without the usual size and thirst, that's what the Evoque is all about.