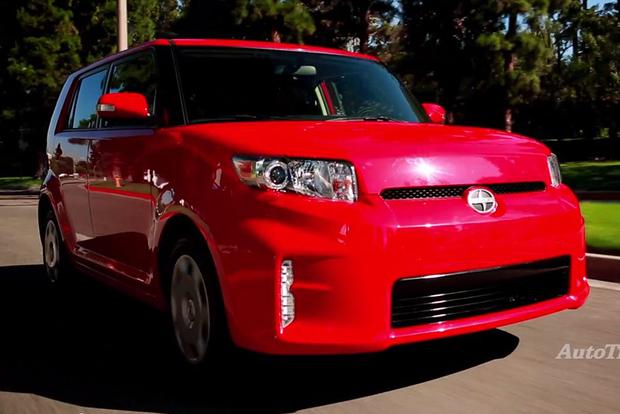 At a glance, the 2015 Scion xB kind of looks like an art-school project. Modern cars are all about sleek styling, but the xB is a box on wheels. When you break it down, though, you'll realize that there's a lot more to the 2015 xB than just the avant-garde exterior. If you are looking for versatility in an affordable package, the xB is second to none. Here are five reasons that the xB might be the right car for you.
Amazingly Spacious Cabin
Boxes are great for storing stuff, and the xB is no exception. Although it's a compact car on the outside, the xB's back seat has plenty of headroom and legroom, even for taller folks. The clincher is the cargo space. Fold the rear seat backs down and you'll have 70 cu ft. of space, which is 6 more cu ft. than the massive Volkswagen Touareg SUV has. You could even use the xB as a miniature delivery van if you wanted to, and some businesses do. It's pretty amazing for a compact hatchback.
Nimble Handling
Thanks in part to its modest dimensions, the xB is pretty fun to drive. The steering is also unusually responsive, giving you plenty of confidence in tight spots. Most cars with this much versatility drive like boats, but the xB always feels compact and confident.
Quick Acceleration
The xB may not look like a speed demon, but it has plenty of pep. If you're expecting a typical meek little engine in this economy car, you're in for a surprise. The xB borrows its 158-horsepower 4-cylinder engine from the previous-generation Toyota Camry. The result? There's enough power to squeal the tires if you're not careful. The xB can definitely get out of its own way, especially if you get the available manual transmission.
Great Sound System
You usually have to pay extra in this class if you want quality sound, but every xB comes standard with a 6.1-inch touchscreen interface hooked to a solid 6-speaker Pioneer stereo. It also has Bluetooth capability and a USB port for audio devices. If you're tired of cars that require expensive options packages to get the good stuff, the xB should be a refreshing change.
Endless Customization Options
Another cool thing about Scion is that you can customize your xB through the dealer. Accessories include a sport exhaust, a rear spoiler and an upgraded touchscreen with mobile apps. Because Scion makes the parts, you even get a warranty. Try finding that on the aftermarket.
AutoTrader Says
The 2015 Scion xB is an extremely practical hatchback, but it's also not afraid to have fun. That's an unusual combination, especially at under $18,000 to start.