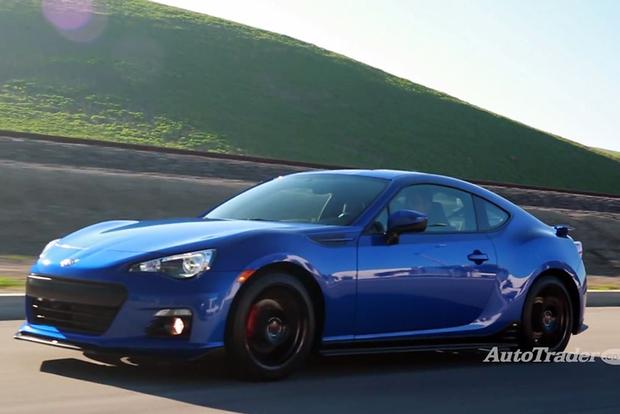 The 2015 Subaru BRZ is a rare breed these days: a purpose-built sports car at a reasonable price. Other than the Mazda Miata, there's really nothing like it. With a boxer engine under the hood and a lightweight chassis that loves to dance, the BRZ is a dream for enthusiasts on a budget. Here are five reasons why this rear-wheel-drive Subaru is the most fun you can have for under $30,000.
Phenomenal Handling
Not too many cars are best known for how they go around corners, but for the BRZ, that's job number one. This coupe was built to handle better than anything on four wheels, and it shows. The weight balance is ideal, and the steering is practically telepathic. The BRZ is almost as easy to drift as it is to drive normally. It's one of the most athletic cars on the market.
Proper 6-Speed Manual
You can get a pretty responsive 6-speed automatic in the BRZ. But if you're a sports-car purist, you'll love the bolt-action 6-speed manual. There's no slop in this gearbox, and every shift is a pleasure in itself. Enthusiasts frequently complain that automakers are taking away the manuals, but in this case, the stick shift is front and center.
Driver-Centric Interior
Like any good sports car, the BRZ's cockpit is built for serious driving. The large, center-mounted tachometer sets a sporty mood, and the grippy seats are ready for track day. Plus, the primary controls are straightforward and right at your fingertips, leaving you free to focus on the road ahead. Unlike the Subaru WRX, for example, which borrows its interior from the Impreza economy sedan, the BRZ gives you something special inside.
Capable and Efficient Engine
Although the BRZ's 4-cylinder engine makes a modest 200 horsepower, the car only weighs 2,800 pounds, so you still can go from 0 to 60 in under 7 seconds. If you want more, numerous aftermarket turbo kits are available. And if you're driving sedately, you'll see up to 30 miles per gallon with the manual and 34 mpg with the automatic. That's pretty impressive for a sports car.
Grown-Up Styling
Subaru's other performance car is the previously mentioned WRX, and let's just say that it's not the most subtle car in its class. But the BRZ's restrained styling is fit for any occasion, whether you're turning hot laps or out on the town. It's a car that's secure in its abilities, and it doesn't need to tell the world how good it is. That means you'll generally fly under the radar, albeit with plenty of appreciative waves and nods from people who know their cars.
AutoTrader Says
Starting well under $30,000, the 2015 Subaru BRZ is an incredible value. It's a genuine sports car at a very tempting price.