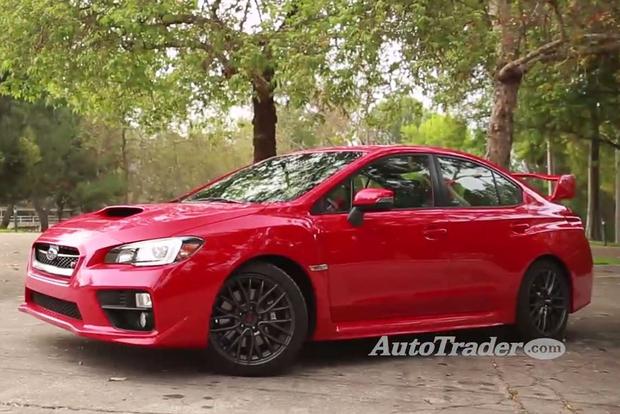 Subaru's high-performance WRX and especially the STI has always been an enthusiast's dream, offering turbocharged zest and all-wheel drive at a reasonable price. Happily, the 2015 Subaru WRX gives you even more power, grip and flat-out fun than ever. But it's not just the most capable WRX we've seen; it's also the most livable on a daily basis. Here are five reasons to get to know the lovable "Rex."
Zesty Acceleration
If you're familiar with the WRX, you'll know that it has a 2.0 liter, 4-cylinder turbocharged engine. In the STI has been bumped up to 2.5 liters and makes an impressive 305 hp. But that doesn't mean the normal WRX has a down-grade; in fact, horsepower is rated at 268, and there's 258 lb-ft of torque across a wider range than before. The result is better drivability, and zero to 60 miles per hour in about 5 seconds flat if you're really caning it. That would be considered serious speed at twice the price.
Two Transmissions
Subaru wanted to reach a wider audience with the current WRX, so they gave it an optional continuously variable automatic transmission with shift paddles in case you don't want a clutch. But don't worry, the standard transmission is still a 6-speed manual, and it gives you smoother action than ever. Depending on which version you get, the WRX also yields up to 28 miles per gallon on the highway, proving that all-wheel drive and high-performance turbo power can somehow add up to solid fuel economy. That's what we call progress.
Tenacious Handling
The WRX's ancestors were real rally cars, and you can feel that spirit from behind the wheel. With standard all-wheel drive, a sport-tuned suspension and precise steering, the WRX can even turn a trip to the grocery store into a white-knuckle joyride. It's all fun all the time, and you can tell that the car likes to be driven hard. If you ever get a chance to drive one on a closed course, do it, because this is the best-handling Rex we've ever piloted.
Upgraded Interior
Historically, the WRX hasn't exactly been known for its interior amenities. But the current Impreza actually has a pretty nice cabin, and since the WRX is based on the Impreza, it gets the same upgrades inside. Highlights include a 4.3-inch display on top of the dash, quality soft-touch materials and even a rearview camera. It's a downright pleasant place to spend some time.
Everyday Practicality
Although the WRX is no longer available as a hatchback, it's still one of the most practical high-performance cars on the market. You get four doors, five seats and plenty of space for adult passengers. The trunk is pretty spacious too, at 12 cu ft., and the rear seatbacks fold down if you need more room.
Autotrader Says
What makes the 2015 Subaru WRX so special is that it's a practical performance car you can drive all year round. At well under $30K to start, it's a must-drive in this class.