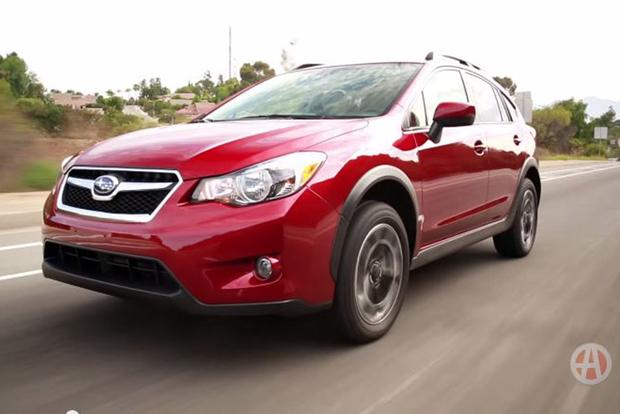 There is a lot of quote-unquote "compact crossovers" these days that actually aren't compact at all. Too often, "compact" just means "affordable," whereas the vehicle itself is actually pretty large. But there's still at least one properly compact crossover on the market, and it's called the 2015 Subaru XV Crosstrek. Here are five reasons why this little Subaru is a big deal.
Manageable Size
If you have to park in tight spaces on a regular basis, most crossovers are just too wide and long for comfort. But the XV Crosstrek is basically an Impreza hatchback on stilts, so it's no larger than an economy car. That doesn't mean it's not versatile. On the contrary, there's 52 cu ft. of cargo space with the rear seatbacks folded down, which is almost as much as larger crossovers provide. But it's a truly small vehicle on the outside, and that might be what your lifestyle demands.
Carlike Handling
Thanks to its Impreza roots, the XV Crosstrek is a pleasure to drive, with responsive steering and an athletic character. It rides higher, of course, but other than the elevated driving position, you can't feel much difference on the road. There's nothing trucklike about it; it's just an Impreza with a better view of the road.
Off-Road Ability
With its standard all-wheel drive, raised suspension and beefed-up components, the XV Crosstrek can actually bust some trails. You might doubt that a jacked-up hatchback could be a legit off-roader, but trust us, this Subaru is tougher than a lot of its larger rivals. When you get it out in the wilderness, you can tell that it means business. Subaru sweated the details to make sure that the Crosstrek could hold its own.
Solid Fuel Economy
You might also expect a high-riding, all-wheel-drive hatchback to return poor fuel economy, but here again, the XV Crosstrek is a pleasant surprise. With the continuously variable transmission, it gets an incredible 34 miles per gallon on the highway. That's only three mpg shy of the regular Impreza's best. The manual transmission gives up a few more mpg, but it's cool that Subaru still lets you shift your own gears if that's your thing.
Generous Equipment
Subarus used to be known for their spartan interiors, but times have changed. Standard features on the Crosstrek include Bluetooth, a rearview camera and touchscreen audio with USB connectivity. Dollar for dollar, it's among the best-equipped models in its class, and that's a welcome development for the brand.
Autotrader Says
The 2015 Subaru XV Crosstrek gives you all the versatility you expect in a crossover; it just doesn't take up as much room. If space efficiency is a top priority, this one's a must-drive.