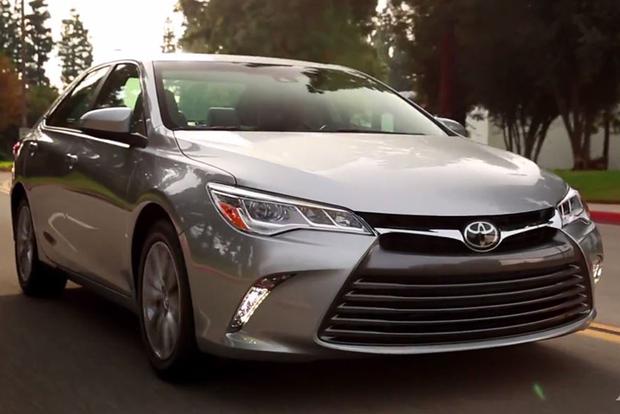 The Toyota Camry has always been a smart choice for a family sedan, but it's not exactly known for being exciting. The 2015 Toyota Camry is redesigned, though, and it just might change that perception. The Camry's all-new styling is sleeker than before, and it's also more fun to drive. Here are five reasons why the latest Camry might get your heart pumping.
Smooth Looks
When is the last time you found yourself thinking, "Hey, that Camry looks good!" We can't remember, either. But the new Camry breaks the mold. It's aggressive up front and refined out back, almost like a luxury sedan. We like the optional LED headlights, too. Put it this way: You're a lot less likely to lose this Camry in a parking lot.
Sharper Chassis
Another phrase we've never associated with the Camry is "fun to drive," but the new Camry's firmer, more precise chassis makes a statement. This is especially true of the XSE model, which gets a sport-tuned suspension that takes Camry handling to new heights. Even the regular Camry LE feels sharper now, and that's good news for everyone. No one buys a family sedan for sporty handling, but it's a nice fringe benefit when the steering and body control inspire confidence.
Excellent Engines
The Camry's standard 4-cylinder engine continues to perform well and return great fuel economy, with up to 35 miles per gallon on the highway. And if you like the new Camry's sporty personality, you'll love the optional V6, which cranks out 268 horsepower and still gets 31 mpg hwy. That V6 has been the best engine in its class for many years, and now the rest of the car is finally catching up. You have to try the V6 if you're Camry shopping, because it's a game changer.
Revamped Cabin
The previous Camry's cabin was a mishmash, but the new layout is focused and refined. The quality of the materials has improved, and you can get neat features such as a wireless smartphone charger and a 4.2-inch TFT display between the gauges. The cabin is now a cooler place to hang out, and has come a long way to close the gap between the Camry and its competitors.
Advanced Safety
Unlike many family sedans, the Camry comes with a full roster of electronic driving aids. Highlights include adaptive cruise control, a collision mitigation system with automatic braking, lane departure warning and a blind spot monitor. That's a lot of tech for an affordable sedan. Even some luxury sedans aren't as well equipped.
AutoTrader Says
There are lots of sensible reasons to buy a Camry, but now you've got some emotional ones, too. The 2015 Toyota Camry is definitely not business as usual.