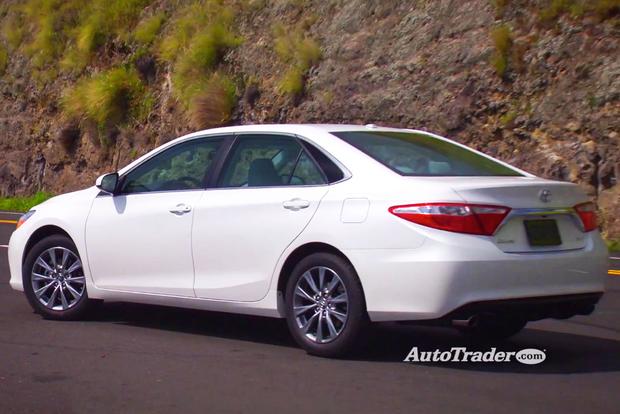 For years, the Toyota Camry has been the best-selling midsize sedan -- but it hasn't always been the best midsize sedan. Competitors are often more attractive, more efficient, better equipped and more fun to drive, but the 2015 Toyota Camry looks to change that, offering a serious makeover compared to last year's model.
The most noticeable change is the way that the revised Camry looks: Every body panel has been re-sculpted or updated in some way, with only the roof getting carried over from last year's Camry. We especially like the dramatic front-end treatment, which should get the attention of drivers interested in boldly styled midsize sedans such as the Mazda6 and Kia Optima.
Inside, the low-budget plastics are gone in favor of nicer materials and a more logical control layout. The dash, center console and door panels are totally new, and they look like they come from a more upscale sedan. That's especially true in the XLE and new-for-2015 XSE models, which even offer handsome contrast stitching. All versions of the Camry also now include a wider cabin for more passenger room, along with additional sound-deadening materials that help to reduce road noise.
There's also a long list of new safety features that includes a pre-collision system, adaptive cruise control, lane-departure warning and a blind spot monitoring system with rear cross-traffic alert.
The Camry also offers some other substantial changes. For instance, the new XSE version combines the luxurious XLE model's equipment with the sporty nature of the Camry SE. On the road, the new XSE model especially impresses with 18-inch wheels and handling that's just a little bit sharper than the SE. As a result, we think that the XSE is the one to get -- and we think it's likely the best 2015 Toyota Camry model.
If you're shopping for a midsize sedan, we still suggest that you consider the Honda Accord, the Nissan Altima, the Kia Optima and the Mazda6 -- all of which are great cars. Thanks to updates for 2015, though, the Camry also deserves a spot near the top of your shopping list.