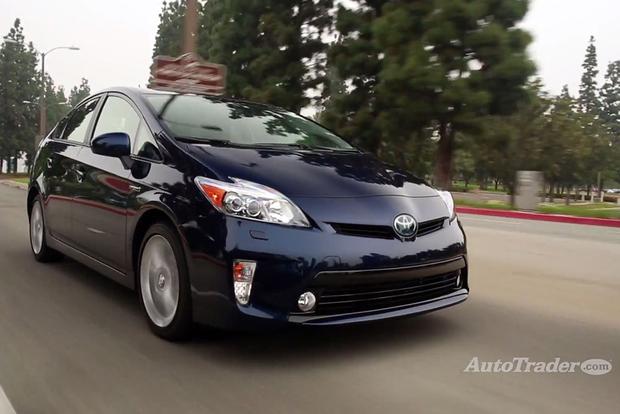 The 2015 Toyota Prius is one of those cars that people love to hate on. But if you're really hating on the Prius, chances are you haven't driven one lately. The current Prius has a slick cockpit that fits you like a glove, and it's as fuel efficient as ever. Plus, with its hatchback cargo area, it can be a genuine packhorse. Here are five reasons why the Prius is one hybrid that actually makes sense.
Incredible Fuel Economy
For some shoppers, this is all you need to know: The Prius gets 50 miles per gallon in combined city and highway driving, including 51 mpg city/48 mpg hwy. That's twice as efficient as the typical car. You'll save a lot at the pump, and you won't have to fill up often, either. With its 11.9-gallon gas tank, the Prius can theoretically go nearly 600 miles between refueling stops. If you're looking to minimize your gas consumption with your next car, it's game, set, match.
Very Practical Interior
People dismiss the Prius as a one-trick pony, but it's really one of the most practical cars for the money. That's because it's a hatchback, which makes it much more versatile than a family sedan. The trunk can hold 21.6 cu ft. of stuff, which is more than any sedan's trunk, and you get close to double that amount if you fold down the rear seatbacks. It's almost like having a crossover SUV.
Spaceship Dashboard
If you've been in older Prius models, you probably remember generic dashboards that didn't have much flair, but the current Prius looks like a spaceship from the driver's seat. The controls wrap around you like you're in a cockpit, and everything falls readily to hand. It makes you feel engaged in the driving process, and that's not something we're used to saying about Toyota's fuel miser.
Generous Standard Features
You might expect Toyota to skimp on standard features with all that hybrid tech under the hood, but once again, the Prius is a pleasant surprise. Standard items include alloy wheels, keyless entry and start, automatic climate control and a 6.1-inch touchscreen. There are higher trim levels, too, but with standard features like these, you probably don't need to upgrade.
Cloudlike Drive
Driving excitement may not be this Toyota's forte, but if you just want to escape from the world during your commute, you could do a lot worse. The ride is very smooth, and with the absence of engine noise, it feels like you're gliding over the pavement. The Prius is a soothing place to escape to after a hard day's work.
Autotrader Says
The 2015 Toyota Prius is quite simply the best Prius yet. It's also a good car, period. If you're in the market for a new car, this Toyota is one of the most sensible choices you'll find.