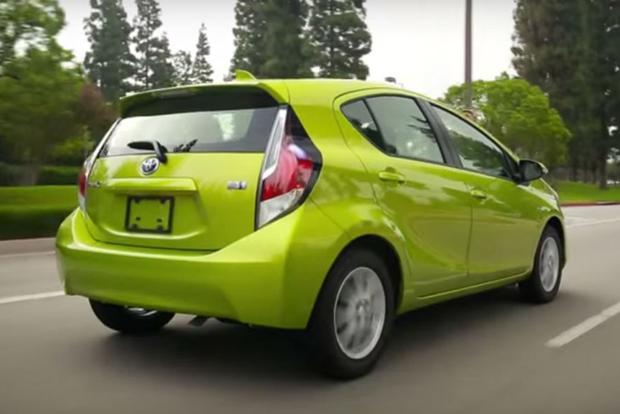 The c of the 2015 Toyota Prius c stands for city, and that's exactly where this little fuel-sipping hatchback shines. It's also been restyled for 2015 for more on-road presence. Here are our five favorite reasons to be in a c.
Frugal on Fuel
When you're considering a hybrid, the No. 1 directive is no doubt to save fuel. It could be for money reasons, emissions reasons or a bit of both, but 53 miles per gallon will definitely do the trick. It'll even do 46 mpg on the highway.
City-Friendly Dimensions
Somehow, Toyota manages to squeeze enough room for five -- plus a hybrid driveline -- into what is technically a subcompact. In reality, it's large for the class, but it still has a small footprint. We're not just talking carbon emissions here. You'll find the Prius c easy to park and a joy when tackling tight city streets.
Wallet-Friendly Hybrid
Not only will you be dropping into gas stations less frequently, the 2015 Prius c is the cheapest new hybrid you can buy in the United States -- around $5,000 less than the regular Prius. So this is one of those hybrids where your total fuel savings could be greater than the initial extra cost.
Toyota Quality
If you stop to think about it, a gasoline/electric hybrid system is pretty complex, but nowadays we tend to take it for granted because Toyota really has this stuff down to a fine art. Factor in Toyota's typically high build quality and reliability, and you have a car that's cutting-edge yet worry-free.
All the Right Gear
Even the most basic Prius c still gets LED lights at both ends, Bluetooth music streaming and phone link, a USB port, a CD player, a 6.1-inch high-res touchscreen display and a color-matched rear spoiler as standard. That's all on top of the nine airbags.
Autotrader Says
The 2015 Toyota Prius c is easily the most cost-effective way of getting into a brand-new hybrid.