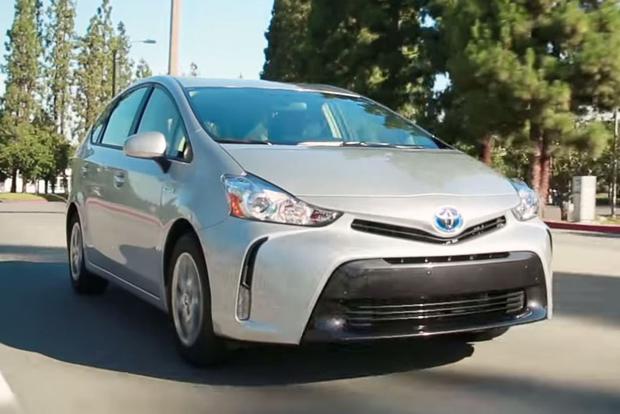 The 2015 Toyota Prius v is the biggest member of the Prius family, which means more room for your family without big fuel bills. Here are five reasons why v could stand for victory.
High Volume
If you're thinking about buying a Prius v, then space is an important factor. With the rear seats folded down, this car has a massive 67.3 cu ft. of cargo room. That's on par with many compact crossovers, but the Prius v is much cheaper to run.
Economy of Movement
This is the Prius v's other major strength. It's a hybrid, using Toyota's tried and tested driveline, and it's rated at 40 miles per gallon on the highway and an amazing 44 mpg in the city. It's easy to hit those numbers in real-world driving, too.
User-Friendly
It's not just the amount of space available; it's how the space is shaped, as well. The roof is more squared off than the regular Prius, giving better headroom for the rear seats and helping achieve big cargo volume. There's more than 3 feet between the rear wheel wells for boxy items. The v even has two glove boxes, along with plenty of other stowage areas.
Display Team
Although the Prius has been around for 15 years, one constant aspect of coolness is the energy monitor that shows how the hybrid system is working in real time. Also, an ECO Score display on the v's dash tells you how efficiently you're driving. It's almost like a video game, only your wallet and the environment are the real winners.
Surprisingly Sweet Ride
For all its good points, no one usually says that the regular Prius is a great drive, but the v veers from the norm with a comfortable ride that feels smooth and stable on the freeway.
Autotrader Says
The 2015 Toyota Prius v comes in trim levels called Two, Three, Four and Five. Even the basic version has a rearview camera, push-button starting, 16-inch alloy wheels and Bluetooth. For this combination of equipment, useful space and excellent economy, the v is hard to beat.