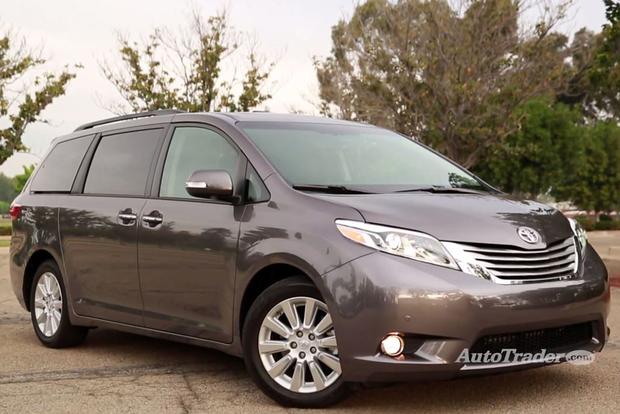 If you're looking for information on a newer Toyota Sienna, we've published an updated review: 2019 Toyota Sienna Review
The Toyota Sienna has always been versatile and dependable, but has it been memorable? Maybe not. These days, though, the Sienna has quietly become the most exciting minivan on the market. Yes, we just used "exciting" and "minivan" in the same sentence. You may have your doubts, but one drive in this Toyota should be enough to make you a believer. Here are five reasons why the 2015 Toyota Sienna is making minivans cool again.
Segment-Topping Interior
One thing the Sienna used to lack was a standout cabin, but that's no longer the case. The latest Sienna gets a thoroughly up-to-date dashboard with sleek central controls, quality materials and an available navigation system with smartphone connectivity. You can also get a rear entertainment system with a split-screen monitor. It all adds up to a cutting-edge interior that stands apart in this segment.
Best Minivan Engine Ever
Toyota hasn't changed what's under the Sienna's hood in some time, and that's because no other engine in this class can truly compete. The standard 3.5-liter V6 pumps out 266 horsepower, but it feels like even more when you let it loose. This family hauler leaps forward when you put your right foot down, and it sounds good doing it. Plus, it gives you a solid 25 miles per gallon on the highway. See the 2015 Toyota Sienna models for sale near you
Available All-Wheel Drive
If you have to deal with winter weather, you might assume that an all-wheel-drive crossover is the only solution for your family. But Toyota actually offers an all-wheel-drive system on the Sienna, giving you minivan versatility and crossover traction in the same package. You still get 23 mpg hwy with all-wheel drive, which is competitive with large crossovers. And when it comes to interior space and convenience, there's just no comparison. The minivan's going to win every day of the week.
Refined Road Manners
You probably don't usually think of minivans as being pleasant to drive, but the Sienna's almost like a luxury car. The cabin stays super quiet at speed, and the suspension soaks up bumps like they're not even there. With luck, your kids will just sit back and enjoy the ride. It's hard to put a price on an outcome like that.
Packed With Features
The base Sienna is so well-equipped that you might not even need to upgrade. Standard features include alloy wheels, dual sliding doors, tri-zone automatic climate control, Bluetooth and touchscreen audio. If you do want more, the sport-themed SE provides unique styling inside and out, and the XLE cranks up the luxury. Toyota knows that some minivan shoppers want all the fixings, and the Sienna's higher trim levels oblige without breaking the bank.
Autotrader Says
For our money, you can't do better than a 2015 Toyota Sienna. Stop by your Toyota dealer and see if your family agrees. Find a Toyota Sienna for sale