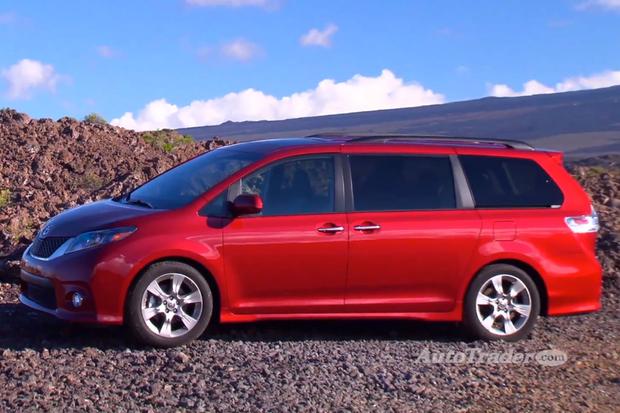 There are only a handful of minivans available, and we've always felt that the Toyota Sienna falls somewhere in the middle of the pack, largely due to the look and feel inside. We think Toyota might agree with us; the van has been revised for the 2015 model year, and the changes to the 2015 Toyota Sienna largely focus on the interior.
The updates are simple but effective. Like the recently revised 2015 Camry, the latest Sienna offers a nicer interior that touts better-quality materials. While we're not sure if the substance of the Sienna's interior has changed, the textures and colors are different, and that's enough to give the minivan a plusher look and feel.
For the first time in a long time, the Sienna's interior is now full of soft-touch surfaces. The result is that the Toyota's interior is just as good as the rival Honda Odyssey's cabin -- if not a little better.
There are a few new features, too: Toyota's family-friendly minivan now gets a color display screen in the center of the gauges, for instance. There's also a newly added chrome trim and an available heated steering wheel on the high-end Sienna Limited.
From the outside, the revised Sienna looks mostly unchanged, though taillights are a little different and the headlights have a slimmer appearance. Sienna LE, XLE and Limited models offer an updated grille and LED daytime running lights. Other than that, the outside of the 2015 Toyota Sienna will look very familiar to anyone shopping for a new minivan.
Functional changes are few, but several small updates give the van a more solid feel on the road. Those revisions include new suspension tuning and a more rigid structure.
While the latest Sienna isn't dramatically different from last year's model, the small changes are enough to keep it competitive with other vans such as the Honda Odyssey and the newly redesigned Kia Sedona.