Car Video
2015 Toyota Tundra: 5 Reasons to Buy - Video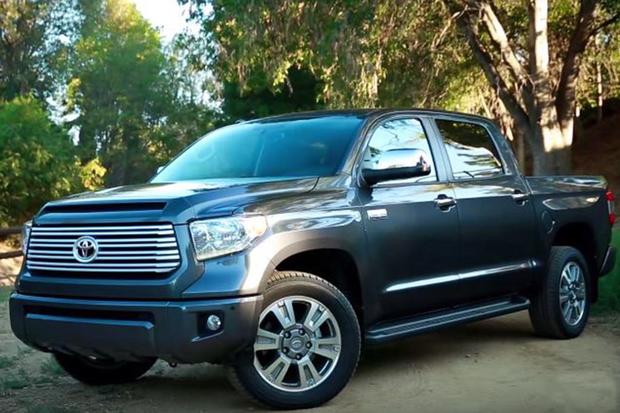 If you're looking for information on a newer Toyota Tundra, we've published an updated review: 2019 Toyota Tundra Review
The 2015 Toyota Tundra full-size pickup is for the industrious and adventurous alike. It's supposed to earn its keep by hauling stuff and staff around, but there's also an off-roading package available. Our test vehicle is the range-topping Platinum CrewMax with 4-wheel drive, but we have five reasons why any Tundra could work for you.
Cruiser Cabins
There are regular and double-cab versions, but this CrewMax model comes with generous passenger space, plus a handy storage area under the rear seats. Equipment-wise, even the base Tundra SR has a rearview camera and a touchscreen-based infotainment system, while the well-stocked Platinum model enjoys creature comforts such as heated and cooled front seats. The optional blind spot monitoring system is really helpful in a truck of this size.
Thunder in the Tundra
Our model has the gutsy 5.7-liter V8, churning out 381 horsepower and 401 lb-ft of torque. The entry level 4.6-liter V8 still makes a respectable 310 hp and 327 lb-ft and improves fuel economy by a couple of miles per gallon. But this one feels so effortless. Power goes to all four wheels, or just the rears in other models, through a 6-speed automatic transmission. In the right configuration, the Tundra is capable of towing 10,500 pounds -- about as good as this class gets. See the 2015 Toyota Tundra models for sale near you
Beds and Beyond
The standard bed is 6.5 feet long. Having the CrewMax cab means going a foot shorter, but you can stretch to 8.1 feet with the regular or double cabs. We love the way the tailgate lowers itself slowly to avoid the old-school slam.
Bumper Crop
When you play with big boys' toys, there's bound to be some contact now and then -- which is where the Tundra's replaceable bumper parts come in. Both the front and rear bumpers use a 3-piece construction for easier and cheaper repairs.
Built by Toyota
This fact really stands for something, even in these days when reliability is taken for granted in virtually every vehicle. In the Tundra, you get a truck designed for America and built in America -- but with the bulletproof reputation we've come to expect from Japanese companies. It has a positive effect on resale values, too.
Autotrader Says
The 2015 Toyota Tundra is available in various combinations of cabs, beds, trim levels and drive setups, so there should be an ideal version for almost everyone. Find a Toyota Tundra for sale