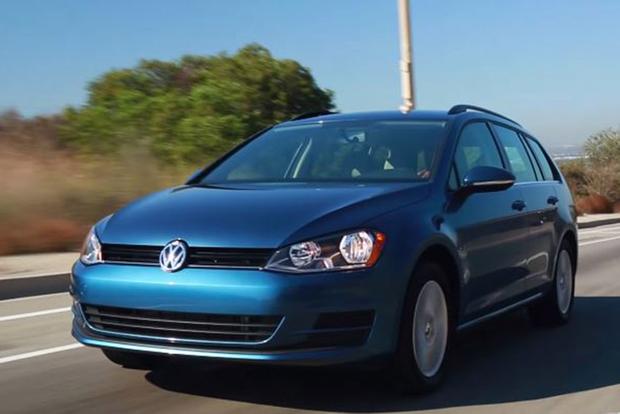 The 2015 Volkswagen Golf SportWagen is for people who love a regular Golf, but need more space. This model is around 10 inches longer, yet it shows that practical doesn't also have to mean plain-Jane. Here are five reasons why the SportWagen takes the cake, candles, party hats and everything else.
Space Craft
With the rear seats folded down, cargo space is a generous 66.5 cu. ft. That's larger than plenty of compact SUV crossovers, and nearly 14 cu. ft. more than the regular Golf. Naturally, the rear seats split and fold in 60/40 fashion for various passenger and luggage combinations, while the wide tailgate opening offers easy access.
Engine Room
You get a choice of two excellent engines in the SportWagen. One is the 1.8-liter turbo, which gives you a decent 170 horsepower. The other is the 2.0-liter TDI Clean Diesel. This unit makes 236 lb-ft of torque for lots of low-end punch when you press the accelerator, and it achieves 42 miles per gallon on the highway. In real-world driving, that figure could be even better.
Golf Driver
Even with all the extra practicality of cargo space and diesel-powered fuel economy, you still get a Golf -- a car that's at the top of its game for refinement. This means a sophisticated ride and excellent driving dynamics. When you're going solo and there's no luggage to slide around inside, you'll be tempted to take the curviest way home.
Superior Interior
The Golf has one of the most upscale cabins in its segment. You'll find plenty of soft-touch plastics, a classy instrument panel and a leather-wrapped steering wheel to go along with comfortable and supportive seats. The touchscreen also works like a smartphone, with swipe and pinch-to-zoom functions.
Money Matters
Starting at under $22,000, the SportWagen comes with a car-full of standard equipment, like a rearview camera, cruise control, electronic limited-slip differential, hill-hold assist and 15-in alloy wheels.
Autotrader Says
As well as being supremely useful, the 2015 Volkswagen Golf SportWagen is the perfect chance to stand apart from the common crossover crowd and step into something cooler.