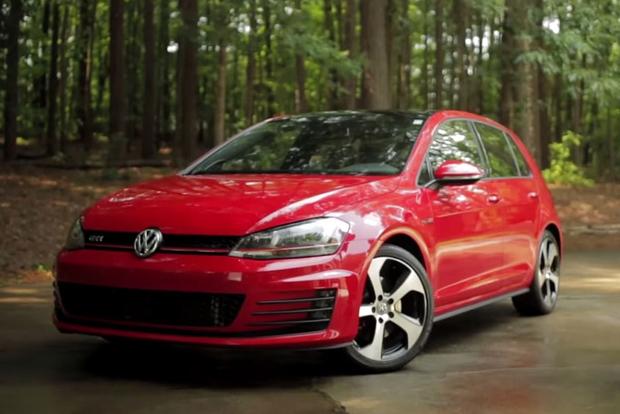 Few vehicles combine quickness and practicality like the 2015 Volkswagen GTI. It not only offers excellent performance, but it touts the practicality of a small SUV, and it's been completely reworked for 2015.
Under the hood, the GTI is powered by a 2.0-liter turbocharged 4-cylinder engine, which is good for 210 horsepower and 258 lb-ft of torque, or more if you go for the optional Performance package.
Available as a 2-door or a 4-door, the GTI is offered in three trim levels. Base-level S models feature a standard touchscreen, Bluetooth and Volkswagen's popular plaid seating. The mid-level SE touts a panoramic sunroof, a backup camera and leather upholstery, while the high-end Autobahn boasts an 8-inch touchscreen and dual-zone automatic climate control. Pricing starts around $25,000 and goes up from there.
Climb behind the wheel, and you'll immediately notice that the GTI offers responsive steering, sharp handling and brisk acceleration. It's also lighter and quicker than previous models with less body roll, even in tight corners. We think the GTI feels like an Audi TT without the Audi price tag, and that makes it a great value.
Inside, the cabin boasts racing-inspired touches, a driver-focused center control stack and impressive materials, which are items that make it more impressive on the inside than its rivals, like the Ford Focus ST and Subaru WRX. It's also surprisingly spacious for a compact car. When it comes to safety, the GTI is Insurance Institute of Highway Safety's Top Safety Pick, and it touts available forward-collision warning, park assist and automatic crash notification.
As for technology, the GTI comes with Volkswagen's Car-Net system, which can link to your smartphone and provide a wide variety of information including maintenance reminders and the current speed of the car.
The 2015 Volkswagen GTI is one of those rare cars where we have a hard time finding things to dislike about it. The price is good, it's fun to drive, and you sacrifice next to nothing when it comes to comfort. In the world of sporty hatchbacks, we think it's the best of its kind.