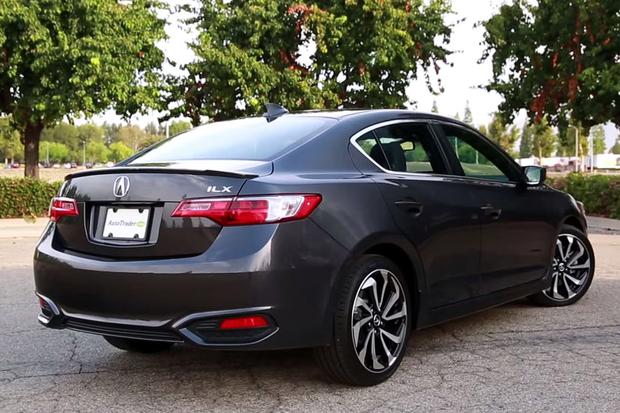 The 2016 Acura ILX may be based on the Honda Civic, but don't write it off. Once you get to know the ILX, you'll realize that it's a genuine luxury car with high-tech features and all the trimmings you'd expect. What you might not expect is the affordable pricing, not to mention new developments for 2016 such as the standard 2.4-liter engine and 8-speed automatic. Here are five reasons why the ILX is worth a try.
Generous Features
Considering that the ILX starts at well under $30,000, we'd say it's absolutely loaded. Standard features include a power driver's seat, dual-zone automatic climate control and Bluetooth, and you can add options such as a 7-inch touchscreen, a navigation system and 10-speaker ELS audio. We're talking real luxury here, not just warmed-over Honda equipment.
Sporty Engine
Under the hood, the ILX doesn't disappoint. The 2.4-liter 4-cylinder engine is basically the same one that's in the sporty Civic Si, which means it loves to rev, and it makes some pretty racy noises, too. With 201 horsepower and a responsive 8-speed automatic, this car moves right out when you give it the spurs. Now that the underachieving 2.0-liter engine has been discontinued, the ILX is a legitimate performer throughout the model range.
Good on Gas
If you're worried that sporty engines don't get good fuel economy, you shouldn't be -- at least, not in this case. Despite its spirited performance, the ILX returns 36 miles per gallon on the highway, which is seriously impressive for a 201-hp engine. We'd hardly call this Acura an economy car, but it definitely acts like one at the pump. You just don't have to make the usual compromises.
Tidy Dimensions
A lot of luxury cars are almost too large for modern cities, but the compact ILX fits right in with your lifestyle. Since it's based on the Civic, it's a cinch to park, and you'll never feel like you're taking up too much space. Hey, you've got enough on your mind without having to worry about damaging your car while you're parking it; being free of such concerns is a luxury in itself.
Premium Drive
On the road, the ILX lives up to its premium badge. Road noise is much lower than what you get in a regular Honda, and the ride is more sophisticated too, providing equal doses of sport and comfort. If you buy a luxury car, you expect an upscale experience from behind the wheel, and the ILX delivers just that.
Autotrader Says
The 2016 Acura ILX shows that you don't have to pay more for an Audi or a BMW. It has everything you need, and it will save you some money, too.