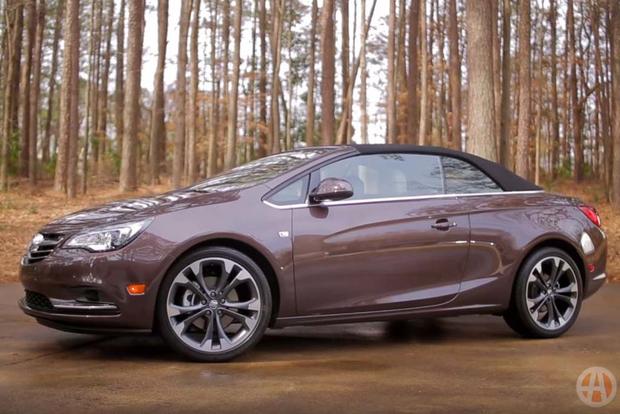 If you're looking for an affordable 4-seat convertible, you've probably discovered that there aren't too many options out there. Enter the 2016 Buick Cascada, which is totally new for the latest model year.
The new Cascada is offered as a base-level or Premium model, with a fuel-efficient turbocharged 4-cylinder engine and prices that start at a competitive $33,000. We recently had the chance to check out the Cascada's upscale Premium trim level.
The Ride
On the road, the Cascada is enjoyable, offering a clear sportiness that makes it fun to drive without being too harsh. The Cascada offers nice, quick steering, excellent cornering and a soft, comfortable ride around town. If you're planning on doing some road tripping, you'll like the 27 miles per gallon it gets on the highway.
Fancy Interior
Inside, the Cascada offers a high-end cabin with leather upholstery, dual-zone automatic climate control, a heated steering wheel and power front seats. But we think the interior design could be improved, as there are too many small buttons -- and the touchscreen graphics seem outdated. Still, there are a few thoughtful touches, such as an automated seat belt assist feature. In back, the Cascada is comfortable for most adults -- but only when the top is down.
Loads of Tech
As for technology, the Cascada offers a 7-inch touchscreen with Buick's IntelliLink interface. Options include a navigation system and OnStar with a Wi-Fi hot spot. As for safety, there's a standard backup camera and parking sensors. With that said, we wish the Cascada offered a blind spot monitoring system to combat the typical convertible visibility issues.
Overall, we think the 2016 Buick Cascada is in the sweet spot of the convertible market, both in terms of size and pricing.