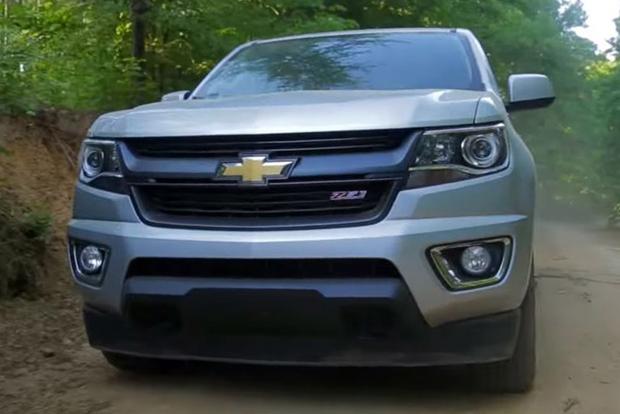 There are plenty of midsize trucks out there with 4-wheel drive. The trick is finding one that's everything you need it to be: efficient, powerful and comfortable. Rugged good looks don't hurt, either.
The 2016 Chevrolet Colorado Diesel checks all of these boxes. Those of us checking in person took the Chevy Colorado Z71 4x4 to an off-road track in Union Point, Georgia, to test out some of the truck's big-ticket add-ons, including a 2.8-liter Duramax turbodiesel engine and off-road suspension setup. After all, the best way to find out what these features are all about is to get it dirty.
Impressive Capability
For a decent-sized truck, the transmission is surprisingly quick and quiet. It's paired to a 2.8-liter Duramax diesel engine making 369 lb-ft of torque, which is great for towing, but more on that later. The Z71 off-road suspension package gives the Colorado a ton of 4-wheel-drive agility. It features a 2-speed electric transfer case, an automatic-locking rear differential and hill-descent control.
All these options offer different ways to get over tough terrain with a pretty good chance of not getting stuck. Ground clearance on the Z71 is 8.3 inches, which is decent. There's also a front air dam that serious off-roaders will want to remove. Other trail-friendly features come standard, including all-terrain tires, tow hooks and underbody protection. Thanks to a lot of torque and the Z71's trailer brake controller, the Colorado can do some serious hauling. You can actually haul up to 7,600 pounds if you're pulling with the Duramax under the hood.
Stylish Interior
Inside the Colorado, you can see where it rises over competitors such as the Nissan Frontier or Toyota Tacoma. The cabin itself really isn't that much to talk about, though: Both the front and back seats are on par with the competition, but that isn't saying much. There are some features we really like, however, such as the clever corner step that makes getting in and out of the truck bed a lot easier, as well as the easy-lift tailgate.
Ample Technology
The Colorado's tech is impressive and includes an available 8-inch touchscreen. We found Apple CarPlay and the 4G LTE mobile Wi-Fi really convenient, whether we were on the jobsite or just exploring on the weekend. In addition, the rearview camera is a must-have, whether you're in town or off-road. We found that it particularly came in handy while trying to back up a midsize truck on a trail that was made for an all-terrain vehicle to traverse.
Our Take
With its off-road capability, impressive tech and stylish interior, the 2016 Chevrolet Colorado Z71 is sure to be a hit with a wide variety of truck buyers, especially those looking for the diesel option.