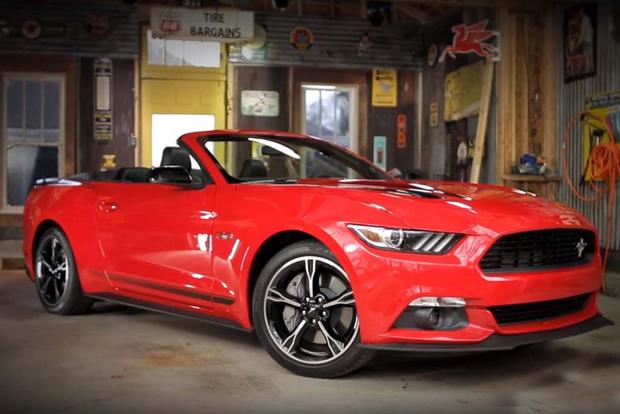 Take just one look at the recently redesigned 2016 Ford Mustang GT Convertible, and you'll likely understand its appeal. There's just something about putting the top down and hitting the open road in one. We recently had a chance to test out a Mustang GT Convertible in order to see up close what makes it so exciting.
The Mustang Convertible is offered with three powertrain choices: a 2.3-liter turbocharged EcoBoost model, a 3.7-liter V6 and a powerful 5.0-liter V8 in the GT -- the model we drove -- which makes an impressive 435 horsepower and 400 lb-ft of torque. All engines are paired to a 6-speed manual or a 6-speed automatic transmission.
Although the Mustang's look hasn't drastically changed since it went through a major redesign last year, Ford did add some new details into the mix with a few new packages that tout extra wheel choices, stripes and spoilers.
As for handling, we think the latest Mustang is more sports-car-like than ever, especially the nimble EcoBoost model. But the GT is the one you'll want for open roads, as its huge engine helps to deliver excellent acceleration.
Inside, the latest Mustang is slightly more sophisticated now, but the back seat still isn't very spacious. The trunk, however, is fairly large for a performance sports car. As for comfort and convenience, drivers will enjoy standard dual-zone climate control, push-button starting and Bluetooth, along with a wide range of safety and convenience options. We also like playing around with the unique Track Apps feature.
This year, the biggest changes to the Mustang relate to technology. The 2016 Ford Mustang now includes a highly improved infotainment system, dubbed SYNC 3, which comes with an 8-inch touchscreen. It's an impressive system, and it'll eventually replace the brand's controversial MyFord Touch technology.
Overall, we think the latest Mustang GT Convertible is a good deal. You get improved technology, a lot of power and a whole lot of retro cool -- all for under $50,000.