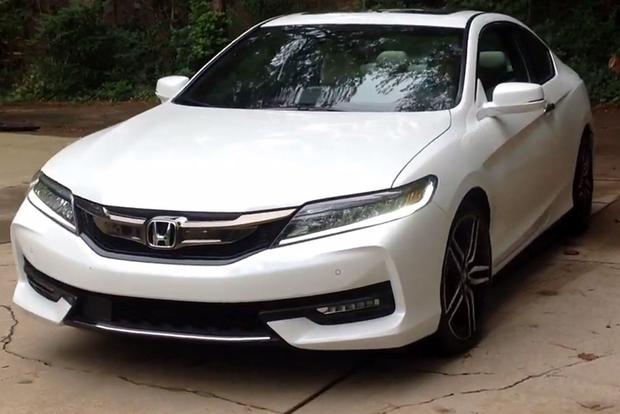 Recently, I got behind the wheel of a 2016 Honda Accord Touring Coupe and was reminded exactly why the Accord gets so much attention.
Overexposed?
Have you ever overlooked a co-worker or a classmate only to be surprised later by their intelligence and/or competence? I think the Honda Accord is kind of like that. The car suffers from a bit of overexposure. It's like the know-it-all kid in school -- OK, Ruben Schmoltz, we get it: You're smart.
Ask anyone who knows even a little about cars, "What kind of car should I get?" and the Honda Accord almost always comes up. The attention is well deserved: Honda has done a great job with the Accord, making it efficient, affordable and attractive, with a wide variety of configurations. Still, I can't help but see the Accord like the bride and groom in an ultra-extravagant wedding celebrating a third or fourth marriage -- no need to make a big deal, we saw you last time ... and the time before that. Only with the Accord, it's a 10th or 20th award or recommendation.
I know this all sounds like a backhanded compliment, but it's not. The truth is, Ruben is still a super smart kid no matter how many times he raises his hand, and the Honda Accord is still an amazing car no matter how long it's been so. I'm also impressed that the Accord still offers some surprises once you're behind the wheel.
So Many Choices
The 2016 Honda Accord Touring Coupe I drove felt solid and rewarding to drive. It cornered with agility and delivered excellent acceleration. The Touring Coupe comes with a V6 engine that makes 278 horsepower. While driving it, I kept thinking that the car felt like an affordable Audi S5. Clearly, the Accord isn't as powerful, and the interior isn't up to Audi standards, but it's a great little car that looks cool and is fun to drive.
But the truly great thing about the Honda Accord is that you don't have to settle -- there's a sedan and a coupe, you can get a manual or automatic transmission, and there's a choice of 4- or 6-cylinder engines, as well as a hybrid. With that kind of variety, it's surprising how much personality the Touring Coupe has, given that it shares a lot of parts with other, more sedate Hondas. The Accord Coupe starts at under $25,000, and the Touring is $35,000. That's a lot of money, but compared to other coupes with equal style and performance, it's a bargain.