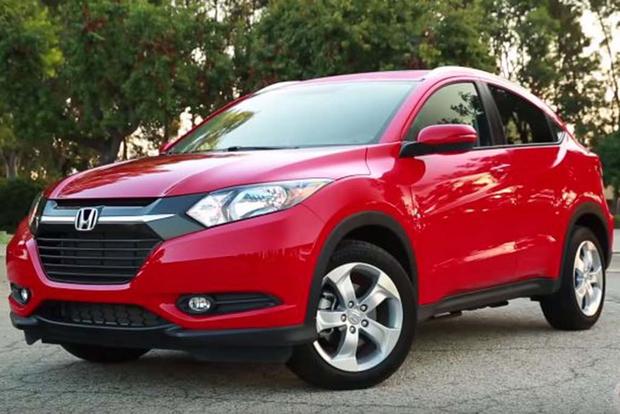 The 2016 Honda HR-V is one of the latest breed of subcompact crossovers. It could also be one of the best, bringing versatility and visibility with Honda's excellent build quality wrapped up in an attractive package. Here are five reasons why the clever HR-V is a no-brainer.
Seat Tricks
Honda describes the HR-V's second row as a magic seat. The cushions flip up for more storage options. In the rest of the HR-V, it's not really magic, but there's still the illusion of a bigger car. The rear seats fold flat into the floor to create 58.8 cu ft. of cargo space. The front passenger seat also reclines further than usual for more versatility. Need to transport something 8 feet long? No problem.
Inside Lines
Even though there's plenty of utility, the cabin also delivers comfort. Soft-touch plastics are located exactly where your elbows connect with the interior, and the amount of rear-seat legroom is great for a subcompact crossover.
All-Around Vision
The HR-V is based on the excellent Honda Fit, and like that car, it has a large glass area. The rear headrests also sink deep into the seats. Combined with the raised driving position crossover buyers love, this all adds up to plenty of visibility. That's good for safety and great for parking.
Safe Ways
Naturally, we can't smash up an HR-V to demonstrate, but since this will often see duty as a family car, you'll be pleased to know your loved ones will be well protected. The HR-V scored five stars overall in federal crash tests.
Reasonable to Buy, Easy to Run
The 2016 Honda HR-V starts at around $20,000 for the front-drive version with a 6-speed manual transmission. In this format, you can enjoy fuel consumption of 25 miles per gallon in the city, 34 mpg on the highway and 28 mpg combined. Go for the continuously variable automatic transmission option and the average consumption stretches to 31 mpg. At the lowest trim level, you'll still have Bluetooth, a rearview camera, an electronic parking brake with a hold function and 17-inch alloy wheels.
Autotrader Says
Subcompact crossovers are quickly gaining popularity, and for good reason. They're practical, affordable and can be fun. The all-new HR-V is a prime example.