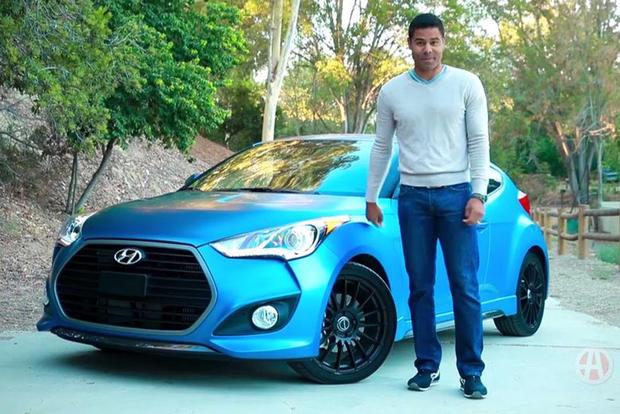 Looking to stand out? The 2016 Hyundai Veloster offers something truly different, with a distinct look, three doors and much more. Here are five reasons this hatchback could be perfect for you.
Unique Style
This car looks like nothing else you've seen. There are cool LED running lights, heated mirrors and 17-inch alloy wheels, all of which come standard. From head to toe, this is a job well-done from the Hyundai design team. If you're looking to stand apart from the masses, the Veloster is the way to go.
Affordable
Simply put, you're going to have a hard time finding a sporty hatchback with three doors and styling this unique for this price. The Veloster starts at around $18,000, and even the top trim levels start in the low $20,000s -- this car is definitely reasonably priced.
Great on Gas
Hyundai didn't skimp on the Veloster. They made sure to prioritize fuel efficiency, which is important for buyers these days. The base trim level returns a remarkable 35 miles per gallon on the highway, while the sportier trim levels deliver a solid 33 mpg hwy -- impressive numbers indeed.
Feature-Filled
The Veloster is loaded up pretty nicely. Standard features include a 7-inch touchscreen with all the goods, a rearview camera, Bluetooth and much more. There's also a cool Style package that wraps your steering wheel in leather and gives you a panoramic sunroof -- and that's just the start.
Fun Drive
From behind the wheel, the Veloster certainly holds its own. The base engine has an adequate 132 horsepower, but we like the turbocharged 1.6-liter 201-hp engine best, especially in manual-transmission form. The Rally Edition trim level we drove was especially fun through tight turns.
Autotrader Says
Tired of driving something that looks like everything else? This car can change that, and it won't flatten your pockets. Get into a 2016 Hyundai Veloster, and enjoy this sporty hatchback.