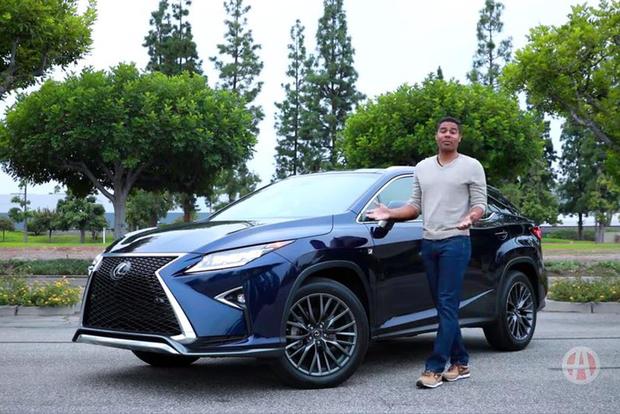 If you're on the move for a midsize luxury crossover, look no further. The 2016 Lexus RX 350 has a lethal combination of all you can ask for in this segment. Check out these five reasons to put the reliable RX 350 at the top of your list.
Smart Technology
Just like any other Lexus, the RX is smart and capable. The Lexus Enform service system is among the best. It can locate your car if stolen, set up a scheduled maintenance and even offers a 24-hour live agent to guide you in case you become lost. When you download the Lexus Enform Remote app, you can do it all, like check on your window locks, door locks and fuel level. Now, that's cool technology.
Attractive Looks
Let's just say it doesn't look like anything else out there, that's for sure. Check out the angles and sharp character lines. It's sleek and athletic, while also supplying a modern feel with LEDs and an aggressive front grille. Lexus, as usual, has done a great job all around.
Smooth Ride
A luxurious ride is generally associated with a smooth ride. Lexus has perfected that smoothness. We strongly suggest you get in one and see for yourself. Obviously, the RX 350 sits higher, as it's a crossover SUV, but as far as the drive itself, you wouldn't be able to tell. Taking turns, it definitely doesn't feel like an SUV, more like a sport sedan. Of course, the F-Sport test car has an added sport-tuned suspension.
Cabin Quality
Everything about this car is perfected, including up front. The cabin quality is remarkable. Every detail, like the Matte Linear Dark Mocha wood trim or the Gray Sapele Yamaha-crafted wood trim, adds a level of refinement to the interior. The optional 15-speaker Mark Levinson system has surround sound, and in the back, the available Rear Seat Entertainment LCD screens should keep everyone quiet and entertained.
Precision Performance
You need power in a luxury SUV, but it's a bonus when you have precision. That's the difference when you buy a Lexus. With a 3.5-liter 295-horsepower V6, the engine practically reads your mind. They even take it a step further with the Drive Mode Select, which really customizes things.
Autotrader Says
Lexus somehow manages to blend luxury with performance and a unique style; all at a great price tag. Check out the 2016 Lexus RX 350. This SUV really is the complete package.