Car Video
2016 Lexus RX: First Drive Review - Video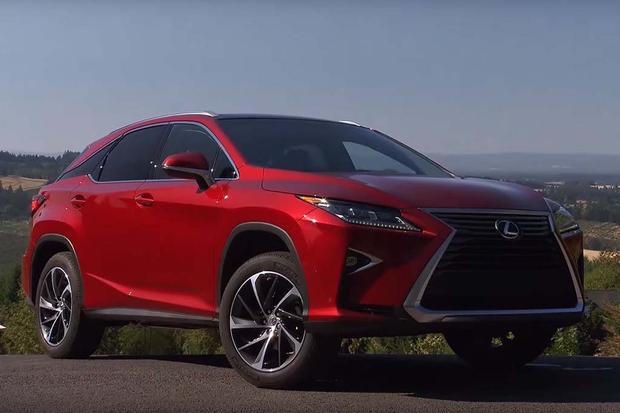 If you're looking for information on a newer Lexus RX, we've published an updated review: 2019 Lexus RX Review
For years, the RX has been the best-selling Lexus on the market. In fact, it's one of the best-selling luxury vehicles, period. This year, the RX is completely new, with revised styling inside and out, new features, and a greater variety of trim levels. We're taking a closer look at the new 2016 Lexus RX in our latest video.
The first thing you'll notice about the latest RX is the way it looks -- a polarizing design that might seem youthful and sporty or over-styled, depending on your perspective. Inside, the RX's cabin has improved compared to its predecessor, with better materials and a more luxurious look. We also like the huge 12.3-inch center screen. See the 2016 Lexus RX models for sale near you
As for variety, Lexus has added a few new choices to the RX lineup in order to appeal to a wider range of buyers. While the base-level RX 350 and hybrid-powered RX 450h remain, the sporty F-Sport trim offers a little more character, and it's now available in hybrid guise, too. Regardless of which RX you choose, expect a slightly larger interior thanks to larger dimensions, and improved handling thanks to revised suspension.
Under the hood, the RX 350 offers a 295-horsepower 3.5-liter V6 -- 25 horses more than last year's model -- and boasts up to 20 miles per gallon in the city and 28 mpg on the highway. Meanwhile, the RX 450h hybrid touts an impressive 30 mpg in combined city and highway driving.
When it comes to gadgets, we especially like the RX's new Mark Levinson audio system, which is among the better audio systems in today's crop of luxury crossovers. However, we're a little disappointed that the RX doesn't offer in-car Wi-Fi like some of its rivals.
No matter how you look at it, the 2016 Lexus RX is edgier in both shape and feel compared to its predecessor. We suspect these new changes will help the RX continue to be among the most popular luxury crossovers on the market for years to come. Find a Lexus RX for sale