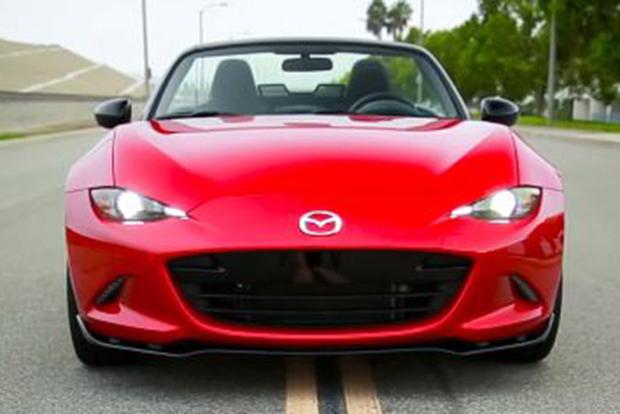 The 2016 Mazda MX-5 Miata is simply one of the best-handling cars around. Since the original Miata came out in 1990, there's been about 1 million sold. Here are five reasons why you'll be sold on this fantastic 2-seater convertible.
Accessible Rear-Drive Thrills
Most of us are familiar with front-wheel-drive cars these days. However, there's a particular thrill in rear-drive machines, which offer better balance and cornering abilities. The MX-5 has that precision and poise, but won't get you into trouble with too much power. It's the perfect introduction to rear-wheel drive, and it also has enough substance to remain fun once you've become familiar with it.
Affordable Rear-Drive Thrills
In general, sporty cars with this layout are expensive to buy and run. The 2016 MX-5 starts at around $26,000 and averages 30 miles per gallon. Efficiency and affordability have never been so attractive.
Sticking Power
Yes, there's an automatic transmission option, but the whole point of a car like this is to get really involved. When a 6-speed manual transmission has a shift action as slick as this, then the fun factor goes up and up.
Build Quality
Although the MX-5 takes its original inspiration from British sports cars of the 1960s, it certainly isn't put together in the same way. You'll enjoy a reliable engine, working electronics and excellent construction with this car.
Beats by Bose
Club and Grand Touring trims have a 9-speaker Bose sound system developed especially for the MX-5. There are dedicated settings for when the roof is up or down. In order to get that kind of specialized equipment in another convertible, you'll have to buy something like a BMW or Mercedes-Benz, and they'll be way more expensive.
Autotrader Says
The 2016 Mazda MX-5 Miata is the first of a new generation and looks like it will carry on being the best-selling 2-seater roadster ever.