Car Video
2016 Mazda MX-5 Miata: Real World Review - Video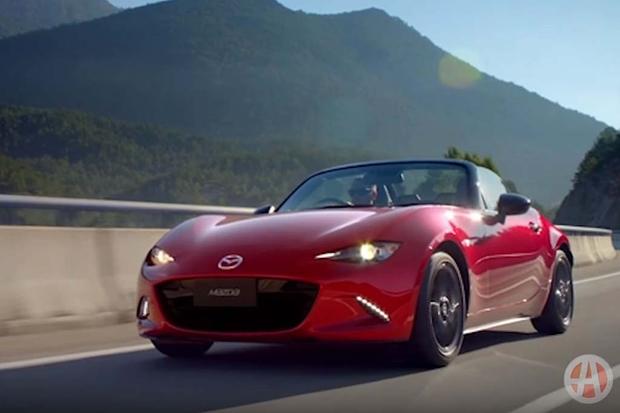 If you're looking for information on a newer Mazda MX-5 Miata, we've published an updated review: 2019 Mazda MX-5 Miata Review
If you're shopping for an exciting 2-seat convertible, then you should definitely check out the new 2016 Mazda MX-5 Miata, which has just been redesigned with a cool new look that's more exotic than previous models.
Under the hood, the MX-5 Miata offers a 155-horsepower 2.0-liter 4-cylinder engine, which is paired to either a 6-speed manual or a 6-speed automatic transmission. Starting at just under $25,000, the MX-5 Miata offers three different trim levels, including a base-level Sport, a midlevel Club and the fully loaded MX-5 Miata Grand Touring, which comes in at around $35,000.
No longer just cute and fun, the latest MX-5 has now been transformed into a sophisticated roadster thanks to a long, sloping hood and an aggressive front end. While its 155 hp may not seem like a lot, the Miata's quick-shifting transmission and lightweight structure ensure it never feels underpowered. See the 2016 Mazda MX-5 Miata models for sale near you
The real fun lies within the MX-5's handling. Steering is quick and cornering is sharp, and the optional Brembo brakes have plenty of stopping power. There's also a nice-sounding exhaust note that really enhances the driving experience.
As for comfort, the MX-5 is a little loud, even with the top up, but the newly redesigned cabin offers some welcome luxury touches, including handsome, high-quality materials on all the major touchpoints. The MX-5 also feels bigger, even for 6-footers. There are, however, some minor gripes, such as the fact that there's no longer a glove box and the center-mounted control knob is in an awkward position, especially in cars with the manual transmission. Also, as per usual, the MX-5 has a small trunk that won't fit more than one medium-sized bag. When it comes to technology, the MX-5 offers a host of the latest features, including a powerful Bose audio system in Club and Grand Touring models.
Essentially, there aren't many other cars on the road like the 2016 Mazda MX-5 Miata. At the end of the day, it's really in a class by itself. Find a Mazda MX-5 Miata for sale