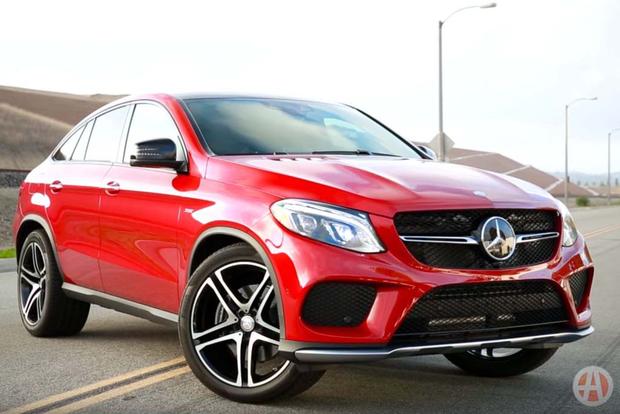 The Mercedes-Benz M-Class is now known as the GLE, and the 2016 Mercedes-Benz GLE450 AMG Coupe is one of a few in the automaker's amazing luxury-SUV lineup. Don't be fooled by the coupe, as it still has four doors. Let's break down five great reasons to purchase a GLE450 Coupe.
Exquisite Cabin
Mercedes designed the GLE's interior with the high-end superior quality that the company is known for. From the top-end materials and controls to the hand-finished wood and heated sport front seats, it just feels complete. The 450 Coupe also has the widest 3-passenger rear seat in its class.
German Performance
There's nothing in the world like German engineering, illustrated by the fact that the GLE450 Coupe only needs about 5.6 seconds to reach 60 miles per hour. Under the hood is a 3.0-liter twin-turbo V6 that delivers a healthy 362 horsepower with 384-lb ft of torque. But it's not just pure power -- it's the precision and refinement that sets a Mercedes apart.
Packages Galore
When purchasing a Mercedes-Benz, you'll be presented with an array of options and packages. There's the Driver Assist package, which includes lane-keep and steering assist, while the Rear Climate package heats your rear seats and a Convenience package offers soft-close doors and even heated cupholders. And that's just a small taste -- there's much more to choose from.
Top Technology
Of course, performance and luxury is present as expected in any Mercedes, and the available technology just ties it all together. The GLE has the latest COMAND interface, which is a state-of-the-art control system. The touchpad makes actions such as swiping and clicking simple, and with available navigation, entertainment and various customizing of all sorts, it gives you a feeling of ultimate control.
Quality Build
If you haven't had the privilege of experiencing Mercedes quality for yourself, it's highly recommended, as absolutely nothing goes overlooked, from the 21-inch alloys to the endless premium safety features and the drive-mode dialer. It's the specifics and the attention to detail that make a car like the GLE450 feel complete.
Autotrader Says
When talking midsize luxury SUVs, the GLE450 Coupe is making some noise. Stylish, sporty, refined and German-engineered, you can bet the 2016 Mercedes-Benz GLE450 AMG Coupe is as good as it gets.