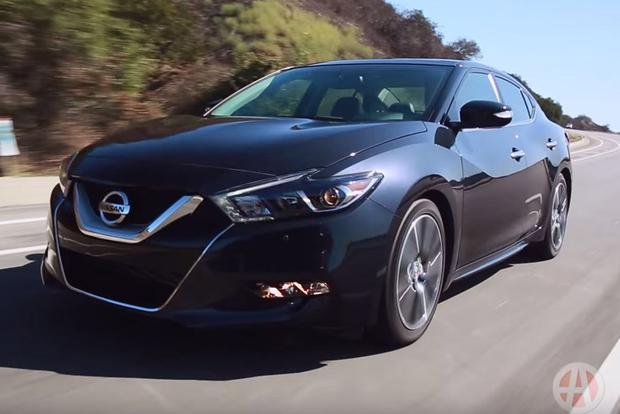 The 2016 Nissan Maxima sits at the top of its own particular tree. It's classified as a midsize sedan, but it's different to the Nissan Altima in more than looks. The Maxima is plusher and definitely sportier. This model marks an all-new generation and we have five reasons why the Maxima means maximum fun.
V6 Power
Nissan's 3.5-liter V6 engine is almost an icon by itself. It powers many of the company's cars and several Infiniti models, too. This updated version makes a punchy 300 horsepower and can send the Maxima sprinting from standstill to 60 mph in just under six seconds.
Singular Style
Some Nissan designs lately have been love-it-or-hate-it. The new Maxima should please more people more of the time. The front is nothing short of dramatic. Curvy lines flow along the sides, converging onto a novel C-pillar that makes it seem like the roof is floating. Looks-wise, this could be a car that really grows on you.
Beautiful Cabin
BMW would be proud if it made a cabin like this. All the materials are top-notch and the shapes are easy on the eye. The cockpit-style dash puts the driver at the center of the action and there's plenty of passenger space. We also like the little details such as a place for mobile phones right near the USB port.
Good Gadgets
Even the most basic S trim level has a rearview camera, push-button start and satellite navigation with an 8-inch touchscreen. This screen deserves a closer look. Just like a smartphone, you can pinch to zoom and even swipe driving directions over to the driver's instrument cluster. How cool is that?
Great Handling
Rival cars tend to favor comfort over cornering talent, but the Maxima takes a different road -- one that twists and turns. We're not saying this car handles really well for a front-drive midsize sedan, we're saying the Maxima handles really well. End of story.
Autotrader Says
The 2016 Nissan Maxima ramps up the fun factor while also heading toward premium territory. It looks and drives like nothing else on the road.