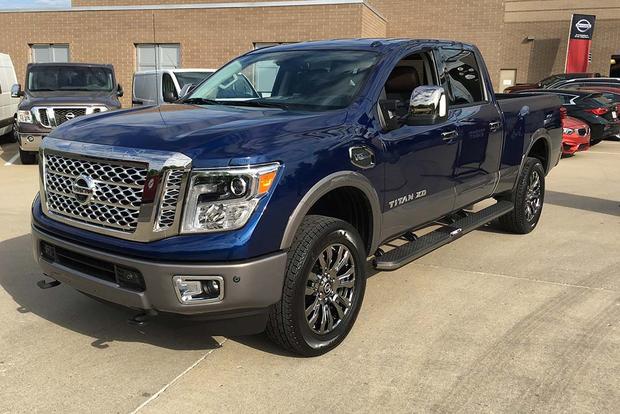 It's been a long time coming, but the all-new, fully redesigned 2016 Nissan Titan XD is finally making its way to dealerships across the country. We've already had a chance to test out the truck's turbodiesel variant, which touts 310 horsepower and a muscular 555 lb-ft of torque. But we only recently got behind the wheel of the full-size pickup's gas-powered model, which offers a 5.6-liter V8 with a whopping 390 hp and 401 lb-ft of torque -- all for a $5,000 price break compared to the diesel. Here's what we thought.
What Is XD?
If you're like us, you probably thought XD somehow denoted a diesel engine. So how is there a gas-powered version named XD? As it turns out, the XD moniker is actually intended to stand for the Titan's strength or grade, much like the HD designation in RAM trucks and the way that General Motors trucks denote themselves as "heavy duty."
So what does XD mean? According to Nissan, it's something of a half-step between light-duty and heavy-duty, referred to by the automaker as "every duty." Unfortunately, that idea doesn't quite come true on paper. The truck's maximum towing capacity -- 12,300 pounds with the diesel and 11,200 pounds with the gasoline engine -- is only slightly ahead of rival light-duty trucks: The Ford F-150 can tow up to 12,200 pounds, and the Chevrolet Silverado has a towing capacity of up to 11,900 pounds. It's roughly the same story with payload capacity.
Still, there's a lot to like about the Titan XD, diesel or gas: It offers a big, bold presence, two very muscular engines and a wide range of trim levels, from the most basic S model to the ultra-high-end Platinum Reserve, which starts around $53,500 with shipping.
Big Changes, Big Benefits
Don't be fooled by the fact that the new gas-powered Titan uses a 5.6-liter V8 just like the outgoing model. Virtually everything else has changed, as the engine now offers direct injection, variable valve timing and lots of other updates that mean improved gas mileage and more power.
Indeed, that's exactly what the latest Titan offers. While the outgoing model only touted 317 hp and 385 lb-ft of torque, the new edition trumps those figures with 390 hp and 401 lb-ft of torque. The latest Titan also uses a new 7-speed automatic transmission in place of the 2015's dated 5-speed. All these updates will likely work together for a boost of 2 or 3 miles per gallon over the outgoing Titan's middling 13 mpg in the city and 18 mpg on the highway.
And it isn't just fuel economy and engine technology that have improved. We like the gas-powered V8's light, nimble driving feel when compared to the diesel engine, which is heavier and (like most diesels) a little slower to respond at high speeds. We also found the gas engine to be a bit quieter than the diesel, giving the truck a more civilized feel. For drivers interested in using the Titan to haul heavy loads, it's worth noting that the gas engine's 500-lb weight savings give it a 500-lb payload-capacity increase over the diesel powerplant -- not to mention the $5,000 savings up front.
Everything Else
Aside from the new engine, the gas-powered Titan XD feels a lot like the diesel, save for a few trim pieces here and there and the noise you hear when you push the accelerator. As a result, our general feelings about the truck still apply. We appreciate the bold styling (though we suspect it will become a love-it-or-hate-it point of contention). We also like the available navigation system and highly useful Around View Monitor camera system, though we lament the lack of Android Auto or Apple CarPlay. The screen that displays that navigation system could be a little bigger. We also like the pickup's smooth ride, and the Platinum Reserve model offers an impressive array of luxury features and excellent high-end trim -- a far cry from the stripped-down S version, which we suspect will primarily find its way to fleets.
Our Take
The 2016 Nissan Titan XD is a good truck, and the gasoline engine is a much-needed addition to its lineup, both for shoppers who don't want diesel power and for drivers who don't want to pay big money for a diesel. With that said, we're excited to see the rest of the Titan model lineup, as a light-duty version and more body styles are reportedly on their way soon. Only then will we be able to judge whether the Titan can really take on the major players in the highly competitive world of the full-size pickup.