Car Video
2016 Scion iM: 5 Reasons to Buy - Video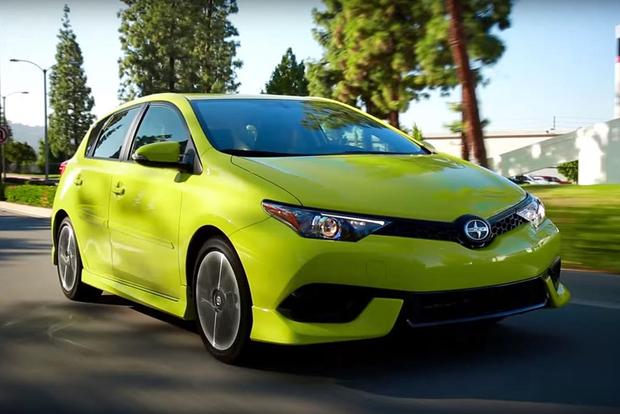 If you're looking for information on a newer Toyota Corolla Hatchback, which has replaced the Scion iM, we've published an updated review: 2019 Toyota Corolla Hatchback Review
The 2016 Scion iM wants a piece of the fast-growing compact-hatchback segment. There are quite a few contenders standing in the way, but here are five reasons why Scion's sporty hatchback is the one to choose.
Standard Features
Scion decided that generosity was the way to go in the standard-features department. Keyless ignition, dual-zone climate control, 17-inch alloy wheels and a 7-in touchscreen with audio and Bluetooth are just a few to name.
Eco-Efficiency
These days, gas mileage is a huge selling point, and the Scion iM doesn't disappoint at the pump. The manual transmission is rated at 27 miles per gallon in the city and 36 mpg on the highway for a combined 31 mpg. The continuously variable automatic transmission is about the same, with a combined 32 mpg. See the 2016 Scion iM models for sale near you
Fantastic Value
If you're looking to save, the iM starts under $20,000, which isn't as steep as most of its competition. Even with added options, such as the cool TRD racing features and navigation, the 2016 Scion iM's sticker is hard to beat.
Reliability
In case you haven't heard, the word is out: Toyotas are definitely reliable, and sibling Scion has that family touch. In fact, Scion is so confident that it gave the iM a 2-year/25,000-mile service boost, which takes care of all scheduled initial maintenance.
Attractive Styling
The iM has a youthful, appealing appearance. This 5-door hatchback has LED running lights, heated power-folding mirrors and a bright chrome-tipped exhaust, giving it a nice sporty vibe.
Autotrader Says
With premium features at no extra cost, an aggressive sporty look and a more-than-reasonable price point, compact-hatchback shoppers need to look no further than the 2016 Scion iM. Find a Scion iM for sale