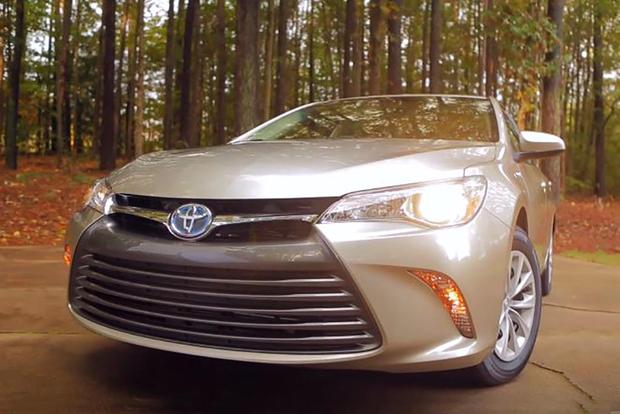 If you're looking to buy a practical midsize sedan that's both safe and fuel efficient, the 2016 Toyota Camry Hybrid is undoubtedly on your radar, and if it isn't, it should be.
The Camry Hybrid has undergone some major changes over the past few years, gaining a new look and more trim levels. There's also an improved interior and a better overall driving experience, which help the Camry Hybrid stay competitive in the growing segment of hybrid midsize sedans.
Largely unchanged compared to last year's model, the 2016 Camry Hybrid will run anywhere from around $27,000 to about $35,000, depending on trim level and optional equipment. Three trim levels are offered, including the base-level LE, the sporty SE and the more luxurious Camry XLE.
Boasting a 200-horsepower gas and electric hybrid 4-cylinder engine paired to a continuously variable automatic transmission, the Camry Hybrid offers up to 43 miles per gallon in the city and 39 mpg on the highway. Although those are impressive numbers, they don't quite reach fuel economy figures offered by some rivals, like the Ford Fusion Hybrid and the Honda Accord Hybrid.
When it comes to driving experience, the Camry Hybrid boasts surprisingly strong acceleration. With revised suspension last year, the latest Camry Hybrid is more fun to drive than you might expect.
Inside, we like that the Camry Hybrid's cabin has remained spacious and comfortable over the years. There's plenty of room for adults in the back, too. We also like that the hybrid battery doesn't hog too much trunk space.
In terms of technology, the Camry Hybrid offers a few benefits, like an available wireless charging tray, a 7-inch touchscreen and the brand's excellent Entune infotainment system, among other features. The Camry Hybrid also boasts a wide range of high-tech safety features and excellent crash-test ratings.
We like the 2016 Toyota Camry Hybrid, and we recommend checking it out as you shop for a new sedan, especially the SE model, which combines a sporty driving experience with a fuel-sipping powertrain.