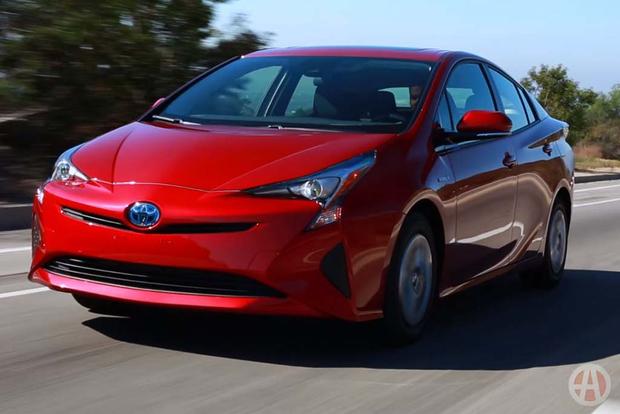 Having saved over 11 million tons of carbon dioxide emissions from being released into the atmosphere, the Toyota Prius is considered a pioneer in the hybrid-vehicle world. When it comes to eco-awareness, the Prius has certainly made its mark. Here are five reasons we think the 2016 Toyota Prius will continue to hold a place in the record books.
Dynamic Design
The Prius now looks better than ever. It's wider and lower than before, which gives it a strong sense of aggressiveness. The standard LED running lights and 15-inch alloys give it a unique vibe that put other hybrids to shame. And who would've thought the Prius is actually designed to glide through wind? An active grille shutter and panels underneath work in unison to cut down wind resistance, thereby helping optimize fuel efficiency.
Perfectly Practical
The days of owning a big, bulky SUV are fading, and more drivers are leaning toward smarter alternatives. The Prius has a lower driving position now, which just feels right. In the back, it offers 27.4 cu ft. behind the 60/40-split rear seats. Fold those down, and there's just over 65 cu ft. The Prius is definitely functional and useful.
Toyota Reliability
When thinking of going eco with a hybrid, consider the Prius first. After all, it was way ahead of the curve on eco-minded driving. Others followed while the Prius led. That's still the case, as the Prius has been trusted for 15 years now. A whopping 95 percent of all Prius models sold in the last decade are still on the road.
Fantastic Fuel Efficiency
Simply put, with a rating of 52 miles per gallon, you'll be thrilled at the pump. The Prius Two Eco trim level returns a jaw-dropping 56 mpg. That's almost unheard of. City drivers really benefit best from a hybrid, unlike a normal car, which is more efficient on the highway. But all in all, whether you're running around town or state-to-state on a road trip, the Prius is unbeatable in the fuel-savings department.
Tech to Match
Toyota knows you can't have innovative engine efficiency without sufficient technology to match. Standard are a rearview camera and a 6.1-in touchscreen. Options seem endless. The color heads-up display is the best we've seen, and wireless charging, a premium 7-in Entune audio system and a Toyota Safety Sense package that includes some seriously smart safety features are also available.
Autotrader says:
Starting under $25,000, the Prius has all you need in this day and age. Don't be left behind. Get into a 2016 Toyota Prius, and start saving. You'll be glad you did.