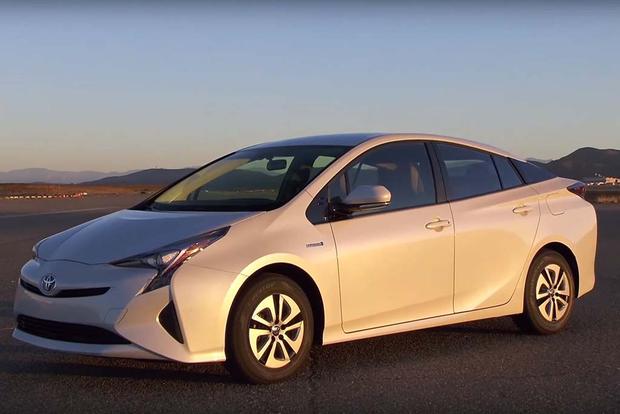 For several years, the Toyota Prius has been a one-trick pony, boasting excellent gas mileage but few other compelling benefits. The 2016 Toyota Prius changes all that, as the latest model offers a modern new look, many more features and even better gas mileage than its predecessor.
That new look is bound to get the most attention, as the latest Prius is modern and contemporary in a way that previous models haven't been. But this isn't just a new face: the front, rear and the interior get a complete makeover. There's also a lower, wider stance that makes the Prius look a little more aggressive.
And it doesn't only look more aggressive: Thanks to new underpinnings and improved suspension, the latest Prius is even a little fun to drive -- especially in Touring guise. Yet Toyota engineers also managed to make the Prius even more fuel efficient than the outgoing model: Most Prius models will return 52 mpg in combined city and highway driving, while a greener Eco model does even better.
The 2016 Toyota Prius also makes some major changes on the inside. The large color touchscreen gives the dashboard a modern look, while redesigned materials improve the design. There's also an impressive amount of cargo space: 27.4 cu ft., which is more than the Chevrolet Trax and Ford Focus.
Under the hood, the Prius retains its 1.8-liter hybrid 4-cylinder engine -- but it makes some improvements. We've already mentioned increased gas mileage figures, but the 2016 Prius also offers more low-end torque for noticeably better acceleration compared to last year's model.
Even with all these changes, the Prius's price is still reasonable: Expect to pay around $24,000 to start, or up to $30,000 for a loaded Touring model.