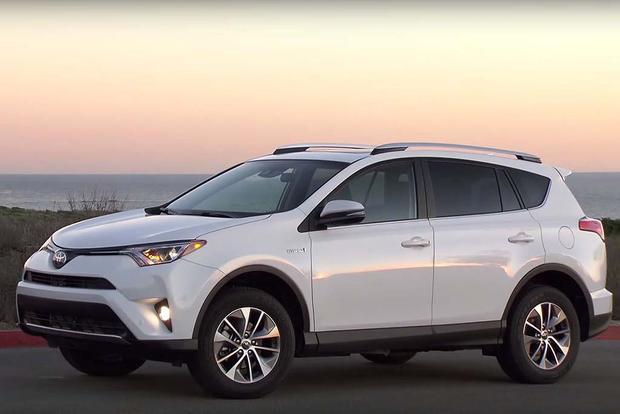 If you've been wondering how you can combine SUV utility with hybridlike fuel economy, the 2016 Toyota RAV4 Hybrid might be the perfect crossover for you.
While there's no shortage of SUVs on the market today -- including compact SUVs -- what distinguishes the new RAV4 Hybrid is its hybrid-powered drivetrain. Offering 30 miles per gallon in combined city and highway driving, the RAV4 Hybrid is a great choice for drivers who want small-car gas mileage, but need a little more utility.
That utility is nearly identical to the utility of the standard RAV4. In fact, the hybrid's cargo volume is just 3 cu ft. shy of a normal RAV4, largely due to hybrid drivetrain components -- which means you won't have to make any major compromises if you upgrade to the hybrid model.
The 2016 Toyota RAV4 Hybrid also receives a few tweaks compared to last year's gas-powered model -- tweaks that also apply to other RAV4 variants. Most noticeable is an updated front end with new fog lights, along with a new front bumper. There are also updated rear lights and an attractive new skid plate on the rear bumper. Interior tweaks are minor, though they include a new dashboard, improved surfaces, an updated gauge cluster and revised cupholders for taller drinks. A helpful 360-degree parking camera is also newly available on the RAV4 for 2016.
On the road, the RAV4 doesn't feel as refined as the latest Prius or the pricier Highlander. Acceleration is about average among compact crossovers, and the engine can get loud under heavy acceleration. Still, the latest RAV4 is about as good as any other compact crossover -- it just isn't noticeably better. But then we go back to the RAV4 Hybrid's 30 mpg figure in everyday driving, and suddenly it seems very impressive.
If you're interested in a new RAV4 Hybrid, expect prices to start at just under $30,000.