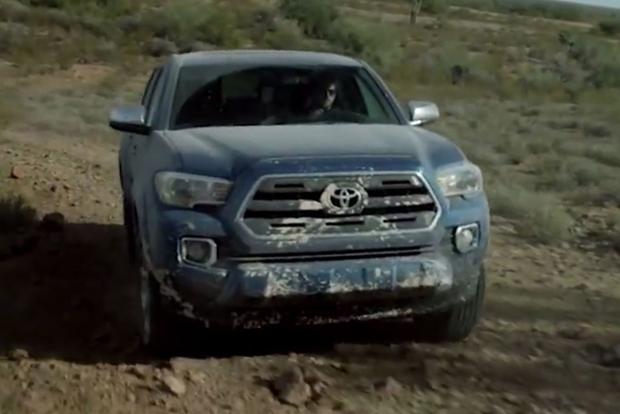 A shortcut to grasping the Toyota Tacoma's influence is found in the fact that roughly 50 percent of all those who buy a less than full-size truck choose a Tacoma. Despite the fact that the Tacoma hasn't received a major update in about a decade, people are still drawn to the brand and specifically to that truck. That means Chevrolet, GMC and Nissan are left to fight for the remaining half of buyers -- the half that won't buy a Toyota -- and that's before a reworked 2016 Toyota Tacoma showed up.
Overdue Update?
Our guess is, in the face of such conditions, Toyota has been reluctant to spend the money on updating the Tacoma because it just wasn't necessary. How many other consumer products can you point to that have remained largely unchanged for a decade or more? I can only think of OxiClean and a Hamilton Beach blender.
But Toyota's easy road to small-pickup dominance may not be a given in the future. We know the Nissan Frontier is about to be updated, and the Chevrolet Colorado is quite good and will soon offer the option of a diesel engine.
Different and Better-Looking
Now that Toyota is giving the Tacoma a reboot, they chose some specific areas of focus. A tougher (but familiar) look and improved off-road ability are two key factors with the 2016 Tacoma. If you're looking for a junior-sized luxury truck -- say, a mini version of the Ford F-150 Platinum -- the Tacoma isn't for you. Yes, there is a lux-ish Limited version with leather seats and a JBL sound system, but we think Toyota could have gone further in terms of plushness. Our guess is that a cushy ride and Lexus-like interior aren't what most Tacoma shoppers are into.
Owners of 2012-to-2015 Toyota Tacoma pickups will find the look of the 2016 Tacoma familiar but not exactly the same. The front end has thinner headlights and a sort of blocky look overall, and the rear end has a more sculpted tailgate (kinda reminds us of the Tundra), reworked taillights, new wheels, a 7 percent deeper bed and a bunch of mechanical upgrades.
Hardware
Actually, it's the new hardware that really makes the new 2016 Tacoma really worth a test drive. In addition to a new engine, there are two new transmissions: a 6-speed automatic and a 6-speed manual. Depending on which version you choose, a 5-speed manual is still available. Most buyers will just get the automatic and be done with it. Engine choices include a 3.5-liter V6 that makes 278 horsepower and a 2.7-liter inline 4-cylinder engine that makes 159 hp.
For 2016, Toyota is emphasizing the Tacoma's off-road credentials, saying that 45 percent of current Tacoma owners take their truck off-road. To meet buyer demand, there are two TRD versions offered: the TRD Sport and TRD Off-Road. The addition of a crawl-control feature, a stiffer frame, a more powerful V6 engine, a revised 4x4 system, and class-leading approach and departure angles means Toyota can say "It will go off-road" without even the hint of a "but ... "
Better on the Road
The truck is also much more pleasant on the road; specifically, it's quieter, and the driver feels more in control. There are both Access Cab and Double Cab (think crew cab) versions available. One complaint: The Access Cab is noisier inside on the road, especially the highway. We think this is because the Double Cab had four full-size doors, with a structural element of the cab separating each one -- in short, they're better sealed. The Access Cab has two small, almost half-doors in the rear, and they seal with each other using only rubber with no structural part of the cab between them. It seems like most of the offending noise comes through those rubber seals on the Access Cab. Toyota says that 85 percent of buyers will get the 4-door Double Cab.
Price is key to the Tacoma's success. For the 2016 Toyota Tacoma, the cost is reasonable. A base truck with very few frills is a little more than $24,000. TRD versions are in the north of the $32,000 range, and the loaded Limited is $38,000.