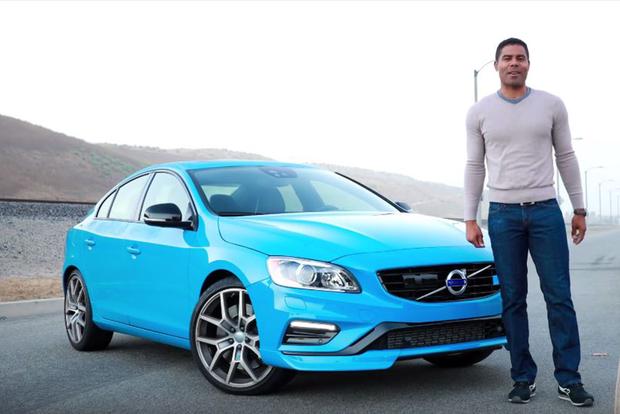 When shopping for an entry-level luxury sedan, the 2016 Volvo S60 might not be at the very top of your list. But Volvo has worked hard, and that hard work is paying off. We have five reasons why the S60 is the full package and well worth checking out.
Tons of Features
Like most luxury sedans, the S60 has standard dual-zone climate control and an 8-way power driver's seat. But Volvo takes it a step further. The Technology Package offers adaptive cruise control, and the Climate Package is great if you live in cold weather -- it heats everything, from the steering wheel to the windshield and even the windshield washers.
Efficient on Gas
Unless you drive a really powerful hybrid, you'll have a hard time getting great power and efficiency at the same time. Volvo, however, somehow manages to get 38 miles per gallon on the highway from its turbocharged base 2.0-liter engine. Even the 302-horsepower T6 trim level returns 31 mpg hwy, and that's with all-wheel drive. Our Polestar returns 18 mpg in the city and 27 mpg hwy -- not bad for a car with this type of performance.
Swedish Styling
In terms of looks, you're not going to confuse a Volvo with anything else on the road. The S60 is sharp, especially our Polestar performance-edition test car. This wedgelike sedan is a definite head-turner. LEDs and heated mirrors come standard, and our test car sported beautiful 20-inch alloy wheels, although 17-in wheels come with the standard trim level.
Technology
Volvo is certainly up to speed on the technology front. The Volvo Sensus integration allows you to do just about everything with your smartphone. And we haven't even talked about safety technology, which is impressive. Plus, the S60 earned a 5-star overall crash-test rating, as one might expect from a Volvo.
Ride Quality
From behind the wheel, the S60 is definitely fun to drive compared to others in this segment. Keep in mind that this isn't a full-on sport sedan, but it also isn't boring or stale by any means. It offers good balance for an everyday driver. Of course, the Polestar trim level we drove has precision handling, Brembo brakes and 345 hp, so it's a great choice if you want more performance.
Autotrader Says
The S60 offers unprecedented safety, top technology and best-in-class fuel efficiency. It's time to take a drive in the 2016 Volvo S60.