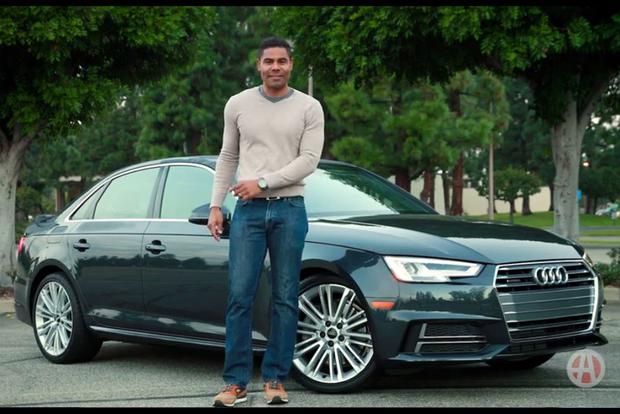 No one can deny Audi has an awesome lineup. The A4 has always been exceptional, but it's now better than ever; here are five reasons to choose the refined 2017 Audi A4.
Good Looks
Most will agree that Audi's designers do exceptional work. Talk about a good-looking car -- the A4 is absolutely beautiful. From the diamond-inspired grille and the standard 17-inch wheels to the LED exterior lights, Audi did a phenomenal job overall. Some subtle changes really give it a refreshed look (and perhaps lead to a few double takes).
Features Galore
The A4 has a long list of standard features: tri-zone climate control, an 8-way power seat, even a sunroof. The list goes on and on, even offering shift paddles if you're feeling sporty. Of course there are options -- this is an Audi -- but even in standard form, you're definitely good to go.
Excellent Engine
Not that they really needed to, but Audi has now increased power in the A4. They gave it 252 horses from a 2.0 liter turbocharged 4-cylinder. We can tell you this car really moves. There is also the fuel efficient A4 Ultra, which returns 37 miles per gallon on the highway while still delivering a fun and respectable 190 horsepower.
Super Smart
Audi does not overlook details: The A4 is smart. It has a 7-inch display screen with standard Apple CarPlay and Android Auto. There's cool stuff everywhere, an optional virtual display, and even the available super-smart Traffic Jam assist, which can control just about everything at speeds up to about 40 miles per hour.
Versatile
This car is built for elements, so it's always a great choice if you live somewhere with potentially severe weather. The optional quattro all-wheel drive is certainly worth it as well. On the top Prestige trim level, you can now opt for either the Cold or Warm Weather package. The Warm Weather package ventilates the front seats, and the Cold Weather package heats the steering wheel and rear seats.
Autotrader Says
Not only is the A4 lighter than before -- it's also bigger. So make no mistake: If you're shopping in this class, the 2017 Audi A4 is without a doubt a must-drive.