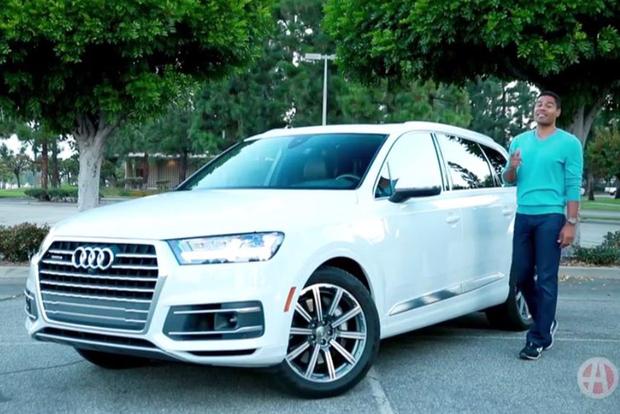 There are luxury SUVs, and then there's the Audi Q7. It's lighter than before, it's more spacious and, of course, it has Audi's staple quattro all-wheel drive. Here are five reasons the 2017 Audi Q7 is as good as it gets.
Innovative Technology
This SUV has cool capability. We really like the Traffic Jam Assist, which brakes, accelerates and even steers at speeds up to about 37 miles per hour. Automakers have talked about a self-driving car for years. Audi is actually doing it.
Spacious
The Q7 can accommodate either five or seven passengers, whichever you choose. There's a pop-up third row, and the second row slides fore and aft to make things easier. Of course, you don't want to pass on the 10.1-inch tablets that offer entertainment in the back.
Ride Quality
The Q7 has a premium feel, and that feeling couldn't be more evident than from behind the wheel. For a full-size crossover SUV, it handles surprisingly well. With tons of safety features, like lane-departure warning and blind spot monitoring, you'll feel confident and secure on the road.
Impeccable Interior
Inside the Q7, it's just beautiful. There's a 7-in screen that rises from the dash, operated by a touch pad and controller. All in all, with the high-rate materials and the impressive functionality, everything's put together nicely.
Efficient Engine
If you've been in any Audi, then you know the engineering is unbelievable. There are a few powertrains, but the supercharged 3.0-liter 333-horsepower V6 offers everything you need. You'll be glad to know the turbodiesel engine returns 44 miles per gallon on the highway. When it comes to power and efficiency, the Q7 definitely has both.
Autotrader Says
There really isn't much the 2017 Audi Q7 doesn't possess. Fact is, it's one of the best 3-row luxury crossovers you'll find. Do yourself a favor and get into the refined Audi Q7.