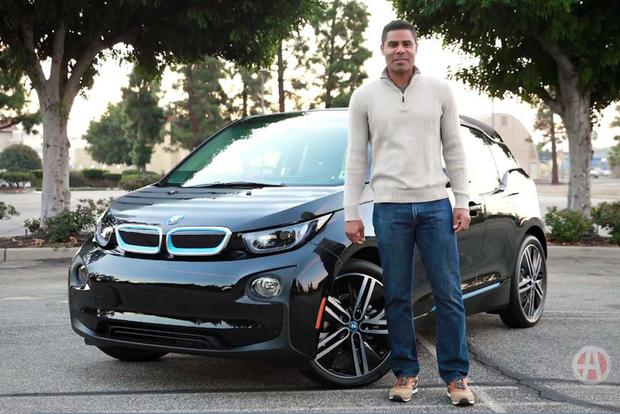 If you're on the fence about going electric, don't be. The BMW i3 is one of the best electric vehicles out there, blending luxury and versatility with zero emissions. Here are five reasons the 2017 BMW i3 will make you not want to wait any longer.
Technology
Rest assured that BMW goes above and beyond for every single detail, and that definitely includes the i3's innovative technology. Coming standard is a beautiful 6.5-inch high-resolution screen. But as we all know, we have to stay connected with our smartphones. Simple enough, right? All you have to do is download the BMW i Remote app. Then you can check your battery level and even set the cabin temperature, all from your phone, tablet or even an Apple Watch, for that matter.
Eco Cabin
Once you step inside the i3, you'll immediately notice the cabin exudes a very eco-friendly, green feel, especially if you opt for the Giga World interior package. Over 25 percent of this interior uses renewable and recycled plastics. But there are also subtly luxurious and premium touches, too. Don't forget this is a BMW. For example, there's a really cool available panoramic sunroof, among many other top-notch features.
Efficient Design
We salute BMW on the design. The i3 has an aerodynamic exterior that's also super light, thanks to a special Carbon Fiber Reinforced Plastic that's as strong as steel but 50 percent lighter. The lighter the better, especially in an electric vehicle, where it adds to the efficiency, performance and -- let's not forget -- safety.
Super Savings
Never want to see a gas pump again? Well, you'll be glad to know the i3 has a 114-mile range on a full charge. If you go for the Range Extender trim level, you'll see 180 miles. Got to get going quickly? A full charge takes 4.5 hours with a Level 2 power source. Plug it in and you'll be out the door in no time.
BMW Drive
As far as the drive goes, the i3 is still a BMW. That means performance is taken very seriously. The i3's 170 horsepower get you from zero to 60 in just over seven seconds. Been in an electric car before? Beware if you haven't, because the torque will surprise you: When the light turns green, the i3 immediately responds.
Autotrader Says
In just about every way possible, this BMW is one of the best ways to go green. The future of driving is here, so don't get left behind -- check out the 2017 BMW i3.