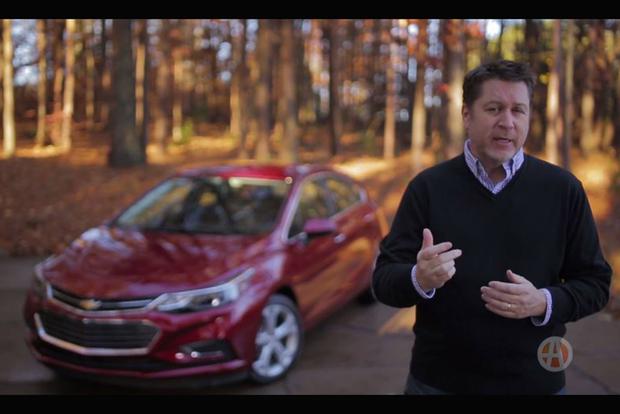 Are hatchback cars becoming popular again?
It's a fact that many of today's most popular cars began life as hatchbacks. The Toyota Camry, Honda Accord and Mazda6 all had early hatchback versions. Today we're seeing the resurgence of the hatchback, and the 2017 Chevrolet Cruze is the latest in this trend.
The Cruze is already a competitive compact, but the addition of the hatchback model adds SUV-like versatility to this affordable car. It's offered in four trim levels, and all are outfitted with a remarkably quick 1.4-liter turbocharged 4-cylinder engine generating 153 horsepower. You also have the option of a 6-speed manual or automatic transmission. There's a diesel version of the engine offered as well.
We tested the very nicely equipped Premier model, which got from zero to 60 in just under 8 seconds but still gets over 40 miles per gallon on the highway. It's really the best of both worlds.
Behind the wheel, the Cruze doesn't look or feel like a generic compact car. But one thing we don't like is that the Auto Start/Stop feature, which does help save gas, cannot be turned off.
The Cruze feels agile, almost sporty on the road, and has a more engaging driving experience than rivals such as the Toyota Corolla. And it's easily on par with the newly redesigned Honda Civic.
Inside, the rear seat is surprisingly roomy. Like the Cruze sedan, the dash has a modern look, with an easy-to-reach touchscreen. On the LT and Premier models, you can enjoy features like remote start, heated front and rear seats, a power sunroof and a 9-speaker Bose audio system.
One of the best features of the Cruze is the large, swing-up hatchback door, which grants access to 47.2 cu ft. of cargo space with the rear seats folded down. That's more than the Honda Civic and Ford Focus hatchbacks.
Tech features of the Cruze are exactly what we would expect. Standard features like Apple CarPlay and Android Auto keep everything on the touchscreen familiar and easy to use. The standard 4G mobile hotspot is also convenient for staying connected with friends and family. OnStar and a wireless charging tray are worth mentioning, too.
As for safety, Chevy didn't cut corners. You'll find a wide range of available adaptive safety tech like rear cross-traffic alert, lane-keep assist and forward-collision alert.
Overall, the 2017 Chevrolet Cruze is a very good car for about $25,000. Consider it alongside rivals like the Honda Civic, Ford Focus and Kia Forte. If you're looking for a little SUV-like versatility for a compact-car price, this hatchback version is definitely worth a test drive.