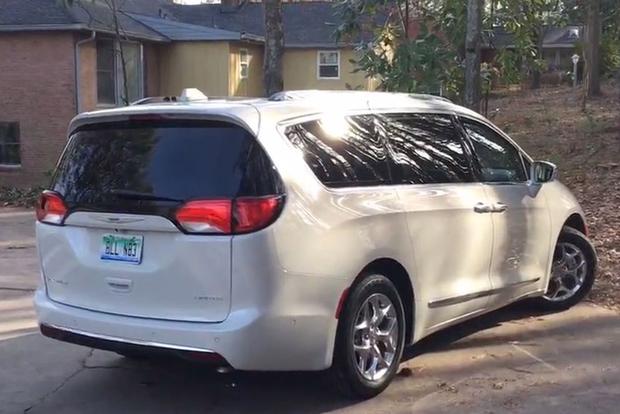 This weekend I actually found a use for the 2017 Chrysler Pacifica's Stow 'n Vac built-in vacuum. That vacuum is standard on the Pacifica Limited.
It's not a super-powerful vacuum, but it does pick up light debris. I bought some of that prepackaged firewood from the grocery store and spilled small slivers of wood in the rear cargo area behind the third row of seats. For this purpose, the vacuum did work well and quickly cleaned up the small mess. Now, this isn't a freebie -- the dirt doesn't vaporize or anything like that. Like a normal vacuum cleaner, there's a tank, and depending on how much you use the vacuum, you will have to empty it regularly.
To use the vacuum, the car has to be in park and running or in ACC mode. When in ACC mode, a "Low Power" light comes on after 9 minutes of use, and the vacuum will shut off after 10 minutes of use. With the engine running, the vacuum will run continuously. It's probably obvious, but only use the vacuum with the engine running in a well-ventilated area. For example, NOT in the garage.
The whole thing is easy to use, comes with a few attachments and has extra hose so you can reach every corner of the car. So far, we think the 2017 Chrysler Pacifica is an excellent minivan in terms of interior comfort, exterior look and driving dynamics. Is the Stow 'n Vac feature a "must have?" Probably not, but it is a "nice to have," especially for families with small kids.