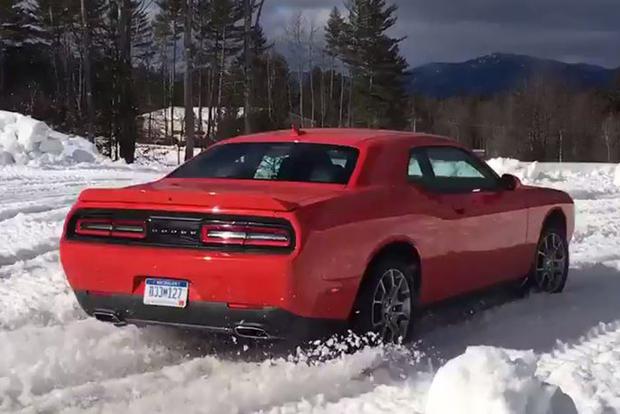 Muscle-car fans already know the Dodge Challenger is available in many different configurations, from SXT to Hellcat -- but Dodge is adding one more version that will appeal to those who want a performance coupe but who also have to deal with ice and snow part of the year.
It's the 2017 Dodge Challenger GT -- and it has all-wheel drive and a 305-hp 3.6-liter V6.
To experience the AWD Challenger, we traveled way up north to Ossipee, New Hampshire, where ice and snow are just a part of life.
Thankfully, even on dry roads, the Challenger GT works well as a performance coupe -- but a performance coupe that can conquer snow and ice is rare. We have to admit, when it comes to American coupes, the addition of all-wheel drive is an unusual move.
But even when your day isn't quite as much fun as a day at the races, the Challenger GT still adds a bit of surefootedness many performance coupes lack.
What's the point of such a car? Well, Dodge found that many Challenger shoppers are also considering Chargers, and one reason for that is the availability of all-wheel drive. The all-wheel-drive hardware is essentially borrowed from the Charger, but the 2017 Dodge Challenger GT gets some suspension upgrades to give it a more GT feel. One of those tweaks comes from the Charger Police Pursuit vehicle. Chief engineer Alison Rahm explains that starting with the Pursuit Charger's suspension setup was a way to get the right feel and handling for the GT.
The all-wheel-drive system automatically manages power and uses factors such as outside temperature, steering-wheel angle and overall driving style to make those decisions. Because the Challenger is normally rear-wheel drive, there is a bit of bias that can be fun, especially when switching off stability control.
The GT all-wheel-drive version of the Challenger is about $33,000 -- which means you're paying just over 3 grand for all-weather ability versus a similarly-equipped rear-wheel-drive Challenger.
The GT interior package is worth considering; SRT seats, a sport steering wheel and an Alpine stereo are worthwhile too -- so you're looking at about $35k for a nicely equipped Challenger you can use all year round.
Is it worth it? Maybe. Try tackling 6 inches of snow in a Mustang -- I don't think the result will be as rewarding.