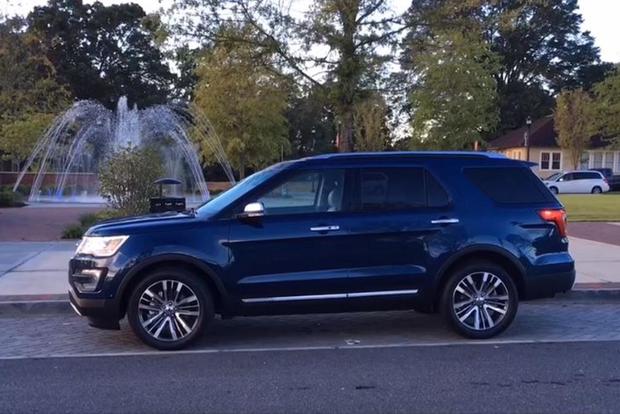 We're finally getting our hands on the new 2017 Ford Explorer Platinum, and the one thing we noticed right away is its classy, almost European look. The mesh grille and LEDs up front and the optional 20-inch wheels set the big Explorer off nicely.
Since this is the Platinum version, pretty much everything is standard, including all-wheel drive, a turbocharged 365-horsepower 3.5-liter EcoBoost engine, heated and cooled front seats, heated second-row seats and a heated steering wheel -- and that's really just scratching the surface. It's a $53,000 SUV, which is a lot, but it has virtually every feature you can think of in a modern family car, including lots of useful tech like parking sensors and cameras, Apple CarPlay, a Sony audio system, lane-keep assist and adaptive cruise control.
By far, the most useful feature is the power-folding third-row seats. They have a one-touch operation, and you can easily fold them up or down together or in a 50/50 split. Add in a hands-free rear lift gate, and everyday family chores become a little easier.
Two things to note for families: The Explorer can feel kind of wide, especially when parking in tight spaces. The interior is roomy, but the extra width is noticeable compared to SUVs like the Nissan Pathfinder and the Toyota Highlander.
Also, the rear-seat airbag seat belts can be hard for younger kids to manage -- my 10-year-old daughter just started fastening them on her own. It's especially difficult when using a booster seat.
Driving dynamics are a serious high point. For its size and power, the 2017 Explorer is remarkably easy to maneuver. Acceleration is quick, and there's very little road noise.
It's true that $50,000 is a lot for a family SUV, but rivals from Chevy, Honda and Toyota are in the same ballpark.
The 2017 Ford Explorer stands out with a plush interior, lots of useful tech, thoughtful power features and an overall look that's more upscale.