Car Video
2017 Jaguar F-PACE: 5 Reasons to Buy - Video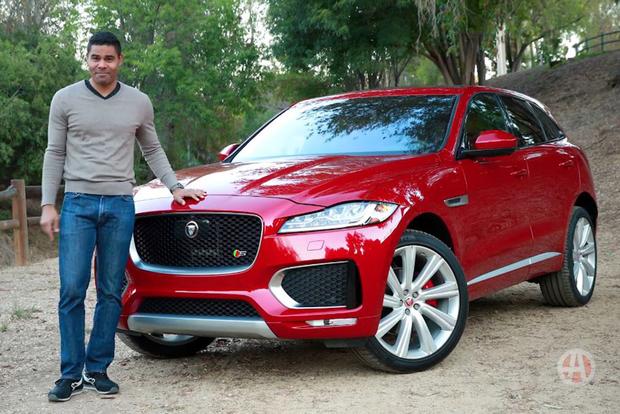 If you're looking for information on a newer Jaguar F-PACE, we've published an updated review: 2019 Jaguar F-PACE Review
The Jaguar F-PACE is a bold new face in the luxury SUV segment. Some say it took a while, but now that the prestigious Jaguar brand has finally built an SUV, we have five reasons the 2017 Jaguar F-PACE was worth the wait.
Beautiful Design
From every angle, the F-PACE has a beautiful design. It's inspired by the Jaguar F-TYPE, so the aggressiveness from that model is definitely present. From the standard LED running lights to the 18-inch alloys, this car exudes strength and power. By the way, our test car's Prestige trim level boasted sporty 19-in wheels.
Top-Notch Interior
All the fine details of a Jaguar interior are very well-crafted, and the F-PACE's whole interior reflects that -- whether it's the innovative technology of Jaguar's InControl interface or the sound from the 11-speaker Meridian system. There's even a beautiful panoramic sunroof. Simply put, the F-PACE's interior is tied together nicely. See the 2017 Jaguar F-PACE models for sale near you
Versatility
The F-PACE differs from most luxury SUVs, as it can actually go off the beaten path. It's versatile in many ways, and with standard all-wheel drive, you just can't go wrong. Packing up for a trip? How about a best-in-class 33.5 cu ft. behind the rear seats? This is one of those rare luxury SUVs that's really built for function and use.
Attractive Sticker
Getting into a luxury SUV isn't cheap, but Jaguar has a different take on that. The F-PACE doesn't look like it would start just under $42,000 -- we'd say that's an attractive place to start. Comparing the field, the F-PACE is pretty reasonably priced.
Sports-Car Feel
Want an SUV that has the feel and sound of a sports car? The athletic F-PACE is your guy. The top two engine offerings produce either 340 or 380 horsepower, and each is a 3.0-liter supercharged V6. If you have any concerns about power, let us assure you that these engines really move. Another option to keep in mind is the 180-hp diesel engine, which has a remarkable 318 lb-feet of torque. Bottom line: They're all fast.
Autotrader Says
The F-PACE is practical, beautiful and relatively affordable. Tired of the same old options and ready to get into something new to the luxury scene? Now is the time to check out the 2017 Jaguar F-PACE. Find a Jaguar F-PACE for sale