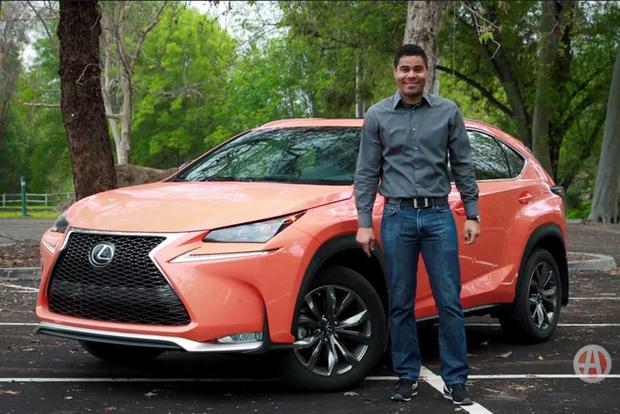 If you're looking for information on a newer Lexus NX, we've published an updated review: 2019 Lexus NX Review
Yes, it's newer to the compact crossover game, but the 2017 Lexus NX feels like it been here for years. If you haven't noticed this Lexus on the road lately, well, we have five reasons that will soon change.
Stand-Out Style
Just take a good look at the NX and you be the judge. It clearly looks like nothing else out there. From the sharp lines to the automatic LEDs -- even its unique grille -- you have to say Lexus designers did a great job. The F-Sport trim level we tested is more race-inspired, so we had really nice 18-inch alloys that have cool, Y-shaped spokes. On the base trim level, 17-inch alloys will come standard. See the 2017 Lexus NX models for sale near you
Lexus Enform
Inside the NX, there is a 7-inch standard touchscreen that uses Lexus Enform. We do have to say, this interface is pretty innovative. You can download the Lexus Enform Remote App on your compatible smartphone and do all sorts of stuff, like check your fuel level, even see if you may have left your windows down.
Ready to Rumble
Lexus gave the NX an AWD option, and depending on where you live and where you drive, it certainly is worth it. We test drove the F-Sport trim level that has more performance-type features, like paddle shifters and upgraded handling. But in either form, the NX is up for any task, whether you're talking a drive off the path, a road trip or zipping through city streets.
Modern Interior
The F-Sport interior has a theme which has more performance-inspired touches -- beautiful touches like sport seats; the leather and stitching on the steering wheel and shift knob have a race-type feel to it. So the F-Type has the sporty interior, however, you might not expect the comfort it provides, which is great especially on a long road trip. While you're at it, why not go for the available moon roof while you're enjoying the ride?
Luxury Drive
The NX comes with a 2.0-liter 235-horsepower 4-cylinder. However, with this engine, Lexus somehow manages to make it fairly smooth over bumps and quiet in the cabin (not an easy task, mind you). It doesn't have that struggle that most 4-cylinders have when you punch it. Not to mention, it returns about 28 miles per gallon on the highway, and there is also a Hybrid version.
Autotrader says
Are you ready to get into something reliable and luxurious? How about something new to the scene that has a unique look? If so, you will definitely want to consider the 2017 Lexus NX. Find a Lexus NX for sale