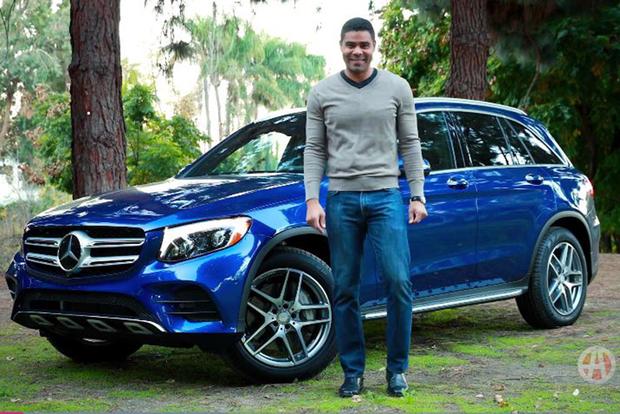 It was formerly the GLK, and now it's called the GLC, but no matter what the name, Mercedes' compact luxury SUV has a ton to offer. Here are five reasons the 2017 Mercedes-Benz GLC300 has all you're looking for.
Attractive Style
It has a beautiful design and exudes an upscale feel from every angle. The GLC comes with standard LEDs, roof rails, power-folding mirrors and even 18-inch alloy wheels, though our test car sported 19-inchers. As far as options, Mercedes offers tons of detailing, like the AMG sport body styling, a roof spoiler and even an illuminated Mercedes star on the front grille.
Safety
The GLC's safety feature list is pretty much endless. Coming standard are a rearview camera, which is fairly common these days, and even a crosswind-assistance feature. Options range from an innovative adaptive cruise control to a special forward-collision warning system that can detect pedestrians. It's as safe as anything out there.
Impeccable Interior
Those that have experienced it will probably all agree that across the board, a Mercedes interior is really second to none. First of all, the GLC has ample space, even in the back—and remember, this is technically considered a compact SUV. Up front, we were impressed with the layout and the detail with which Mercedes put everything together. Of course, you get standard dual-zone climate control and a 14-way power driver's seat, and you can opt for a beautiful panoramic sunroof.
German Efficiency
The GLC comes with one engine, unless you go for the AMG GLC43 trim level's 362 horsepower. But with that said, the regular engine is a powerful 2.0-liter 241-hp turbocharged 4-cylinder. That's more than enough for most needs, including passing and merging. Now take that, tack on 28 miles per gallon on the highway, and the GLC300 is ready to go.
Everyday Drive
For a compact SUV, Mercedes somehow manages to keep the GLC's cabin fairly quiet and its ride well composed over bumps. On longer trips, it's just a flat-out nice drive, especially when you put the Dynamic Select mode dialer in comfort mode. The GLC also has a sporty edge, especially if you opt for the shift paddles and the fun-to-drive 4Matic all-wheel drive.
Autotrader Says
German-engineering, luxury and efficiency, all starting at around $40,000. If you're in the market, you should definitely take the 2017 Mercedes-Benz GLC300 for a test drive.