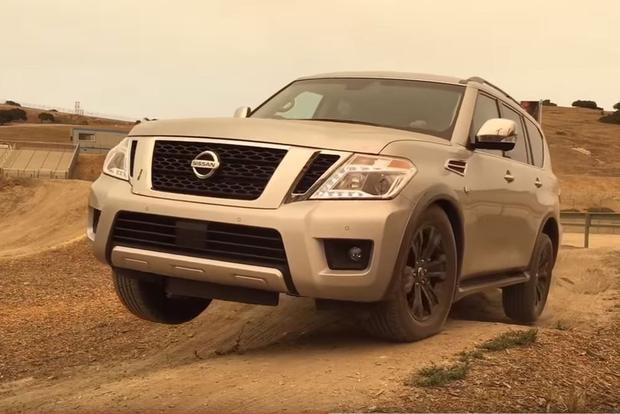 If you've been following the new 2017 Nissan Armada, you might be wondering if it can handle off-road terrain. The short answer is yes based on the many off-road friendly features Nissan has included in the Armada.
The new Armada is based on the super-capable Nissan Patrol. Never heard of the Nissan Patrol? For decades, it's been the go-to off-roader all over the world. Ever seen those cool-looking white UN SUVs? Those are usually Nissan Patrols.
For 2017, the Armada has tons of features that, like the Patrol, make it an excellent off-road SUV.
First, the Armada has a fully boxed, all-steel frame, which means it's stiff and has trucklike ruggedness. It also sports a 20-percent increase in rigidity versus the 2016 model.
Also, there are twin-tube shocks and a 26.5-millimeter rear stabilizer bar.
Engine-speed-sensitive power-assist rack and pinion steering can help negotiate rough terrain at low speeds and we suspect it provides improved precision at higher speeds.
The new 5.6-liter direct-injection V8 engine is helpful should you come upon some steep hills. The engine is good for 390 horsepower -- that's 73 more than the old Armada.
With more than 9 inches of ground clearance, the Armada should be able to handle whatever you can throw at it. With a nearly 21-degree approach angle, a 22.3-degree departure angle and an around-view monitor, you can keep the Armada's slick bodywork undamaged even if you venture far from smooth blacktop.
Clearly, Nissan is moving the Armada to a more upscale position for U.S. buyers. The features, options and overall look of the car aren't as rugged or tough-looking as the previous versions of the Armada. However, if you want to take it off-road, Nissan's got the features to make it happen.