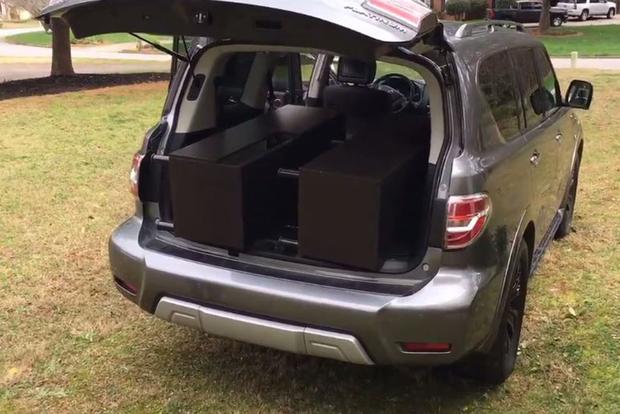 Now that I've spent some real time with the all-new 2017 Nissan Armada, there are two specific things I really like.
Truthfully, there are more than two things. The wheels look cool, the truck has an excellent ride and it's nothing like the previous Armada. Still, in using the truck every day, there are two things about it that really stand out day after day.
The first is the flexible cargo area -- even with the third row up, there's still space for stuff like groceries. The second row is easy to fold and the third row has a power-folding feature. Fold all the seats down and there's enough room to grab an excellent craigslist deal on a slightly used media cabinet -- the power rear hatch doesn't hurt, either. Even with the third row up and in place, there's still room for groceries.
The second thing is the Armada's 5.6-liter V8 engine -- it's smooth and powerful, but I really like the sound of it. I'm not sure why Nissan didn't give it a dual exhaust, similar to the Dodge Durango, but that's a minor point. I never get tired of the sound when pulling away from stop or merging on the freeway -- fuel economy isn't spectacular but it does have nearly 400 horsepower. Either way, if you're shopping for a full-size SUV, especially a truck-based SUV, the 2017 Nissan Armada should be on your list. If for no other reason, there's the excellent V8 engine Nissan has built for this truck.